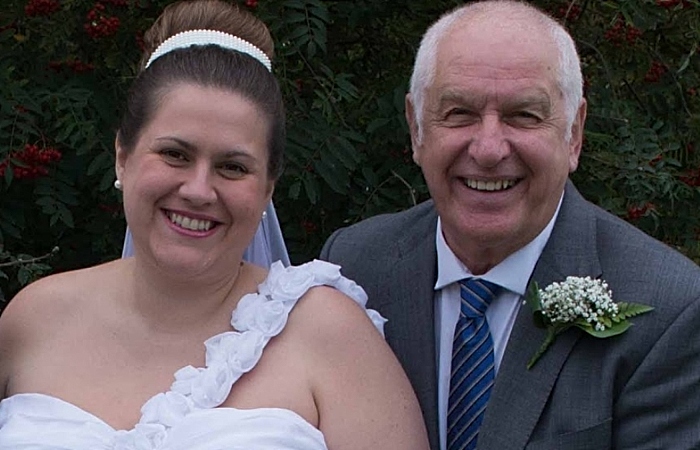 A Wistaston mum taking part in St Luke's Midnight Walk in memory of her dad, is urging others to pull on their trainers for the Hospice.
Despite her own health problems, Lexie Farmer will walk 10 miles through Nantwich and Crewe in June as a thank you for the care her dad received in his final days at St Luke's Hospice.
James Goldie, 72, died at the Hospice in January last year after being diagnosed with a stage 4 brain tumour.
Lexie said: "Just over a week before his death he went to St Luke's for a week of respite.
"Unfortunately, within days it became clear he wouldn't be coming home.
"The care provided by all the staff at St Luke's was phenomenal.
"I'd never had experience of a Hospice before but the support and care given was beyond anything I could have imagined.
"A couple of days before he passed, a lovely health care assistant offered him some whiskey and ice cream.
"He wasn't talking by this point and wasn't really accepting food, however his eyes lit up and a smile filled his face.
"We watched as he savoured every small drop. It's a memory that will stay with me forever.
"I wish more than anything that Papa had not been taken from us.
"I'm so thankful and grateful he was comfortable and calm being cared for at the most wonderful place – St Luke's."
Just a week after her dad passed away, Lexie discovered she was expecting her second child – news which would have meant the world to her dad.
Despite suffering debilitating pelvic girdle pain during her pregnancy which left her on crutches, she is determined to take part in the Midnight Walk to raise money for St Luke's.
She added: "It's going to be a big challenge for me.
"I'm also walking on my own which is quite scary and daunting but I want to do everything I can to help St Luke's continue to care for families like mine."
Jane Thompson, Head of Events at St Luke's Hospice, said: "We have been so touched by Lexie's story, please don't let her walk alone!
"By joining her and taking part in our Midnight Walk you can help ensure that other families like Lexie's receive the care and support they need at St Luke's.
"The Midnight Walk is St Luke's biggest individual fundraising event and is crucial to the income of the Hospice.
"Please get your friends and family together and pull on your trainers for St Luke's."
St Luke's Midnight Walk is taking place on Saturday June 27 and is a six-mile (mini-moon) or ten-mile (full moon) walk through the streets of Crewe and Nantwich.
For more information and to sign up  visit www.slhospice.co.uk/midnightwalk