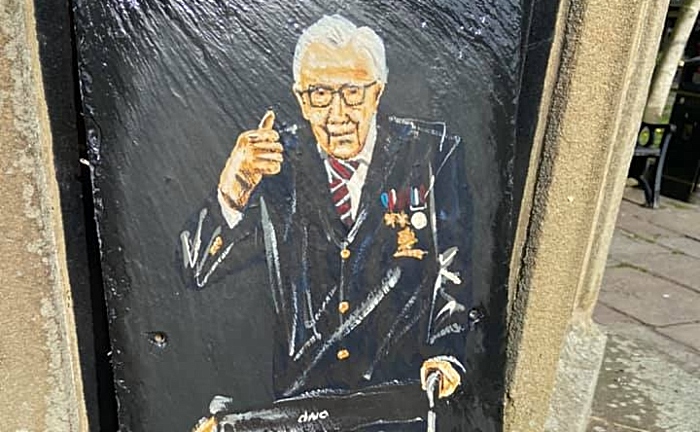 The slate painting of Captain Tom Moore is to be reinstated on the town square in Nantwich after readers clamoured for its return.
The stunning picture, by Tony Denton, was awarded to the town as a tribute to the 99-year-old who has raised more than £28 million for NHS charities.
We told how Nantwich Town Council moved the painting from the War Memorial to place it in a time capsule in the Civic Hall for safe-keeping.
But hundreds of readers who had not had chance to view it first, called for its return and to be on display until after the current Coronavirus lockdown.
And the town council has now reversed its decision.
A spokeswoman for Nantwich Town Council said: "As previously reported we will be putting a time-capsule under the floor on what was the old stairs leading to the Peggy Killick Suite.
"The time capsule will include images, statements, etc from the present time and what life has been like during lockdown.
"When we saw the story about Tony Denton's artwork we felt the portrait would be perfect to place in the capsule, along with the story of Tony and Captain Tom.
"We felt this really captured the British spirit at the time and would be of interest to those unveiling it in the future.
"Due to the current situation and the Civic Hall being empty, it is an ideal time for the floor works to be carried out within social distancing guidelines.
"Work for this to be undertaken is booked for Monday, hence the urgency to remove the image, with the approval of Tony, to go in the capsule.
"Once the floor is down, there will be no lifting it and accessing the capsule.
"Having seen comments on social media in support to have the painting of Captain Tom on display, the council has been in conversation with Tony.
"We have jointly made the decision to place the image back on the War Memorial until after lockdown and then a suitable place to have it hung will be found.
"A copy of the painting and details of its story will still be included in the time-capsule."