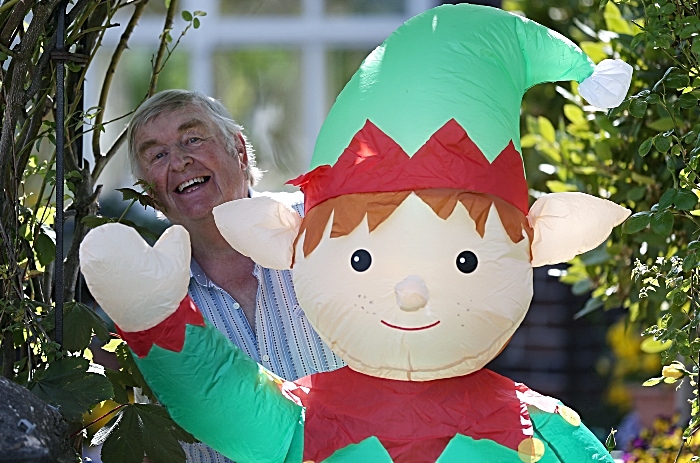 Wistaston's famous garden gnomes have welcomed a new guest – an Elf called Boris full of hot air!
Villager Laurence Perry, who runs and maintains the gnome collection in and around his Westfield Drive home, decided to introduce a new centre-piece.
And he has now added a large inflatable elf to his collection under the archway of the entrance to his front garden.
The elf is called 'Boris' after Boris Johnson, Prime Minister and Leader of the Conservative Party.
Laurence, 79, said: "Boris is the biggest elf so is in sole charge of all the gnomes!
"I hope that people enjoy the display and it helps to take their mind off the current difficulties we are all experiencing."
Laurence has been entertaining passersby and visitors for many years with his gnomes in his garden and land at the front of his property, along with a wonderful variety of flowering plants.
His collection made national and international news in 2017 when Cheshire East Council threatened to remove a cheeky bottom-baring gnome after receiving a complaint that it could distract motorists.
The story originally run by Nantwich News received worldwide publicity including the BBC, Daily Mail, Express, Mirror and Telegraph along with newspapers in India and the USA.
Laurence's gnomes' range in size and shape and include solar-powered gnomes, worker gnomes, giant gnomes, acrobatic gnomes, gnomes with houses, Wistaston Cricket Club gnome players in action, and a chief gnome wearing a face mask.
His garden plant varieties include Clematis, Echinacea, Foxgloves, Pansy, Peony, Roses, and Violas.
Laurence is also known for his magnificent annual Christmas light display which features different types of lights and lit up Christmas trees at the front of his home.
(words and pics by Jonathan White)