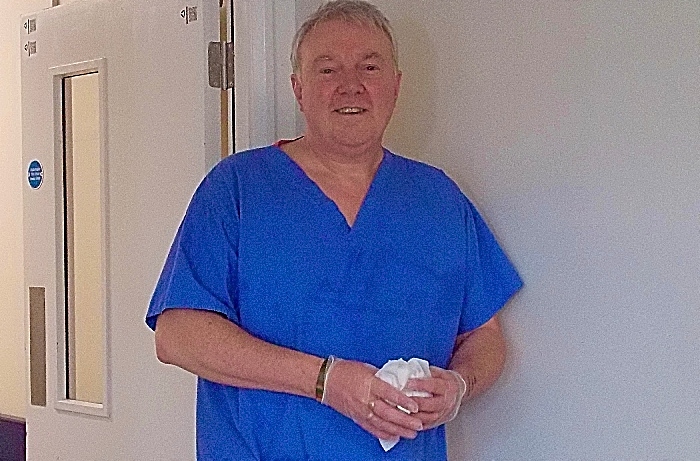 A script writer for Coronation Street decided to mark Volunteers' Week – by working as a cleaner at Leighton Hospital.
Mark Bickerton swapped the famous cobbles for the hospital corridors to lend his support to frontline NHS staff battling against the coronavirus pandemic.
Mid Cheshire Hospitals NHS Foundation Trust has paid tribute to Mark and its team of volunteers for their support.
Mark, who wrote and produced several high profile storylines for Coronation Street and Emmerdale during his 30-year career, has supported the Trust by cleaning corridors, touchpoints and floors.
After seeing the response to the first Clap for Carers event, Mark said he wanted to offer practical support on the frontline and got in touch with Mid Cheshire Hospitals to offer his time.
"The coronavirus pandemic is the closest experience to war that this country has witnessed in my lifetime," he said.
"Having worked in war zones as a writer and consultant during the early part of my career I know how important it is for something good to come out of something bad and so I wanted to volunteer my time at Leighton and help where I could."
As well as volunteering at Leighton Hospital, he has also been delivering medication and shopping to vulnerable people.
And he has even found time to complete a book of short stories which will be on the shelves later this year.
Mark said volunteering has been a "very rewarding experience" and something which has benefited his own wellbeing, as well as offering him the opportunity to do something positive for others.
"It has been an absolute pleasure to be helping out.
"I have been overwhelmed by the amount of doctors, nurses and housekeepers taking the time out of their incredibly busy day to say thank you to me.
"It's been lovely to be made to feel part of the team and for my contribution to be so appreciated."
Jo Newbrook, Voluntary Services Manager, said: "Whether they've been with us for a few months or over 30 years, each one of our volunteers is a vital part of our team and we're so grateful for their loyal support.
"Even during these challenging times when many volunteers haven't been able to carry out their normal roles, they have still shown us great support in other ways.
"We hope to be able to welcome everyone back as soon as we can but in the meantime, we just want to say a huge thank you to them all for everything they do."
(Pic: Soap scriptwriter Mark Bickerton at work at Crewe's Leighton Hospital)