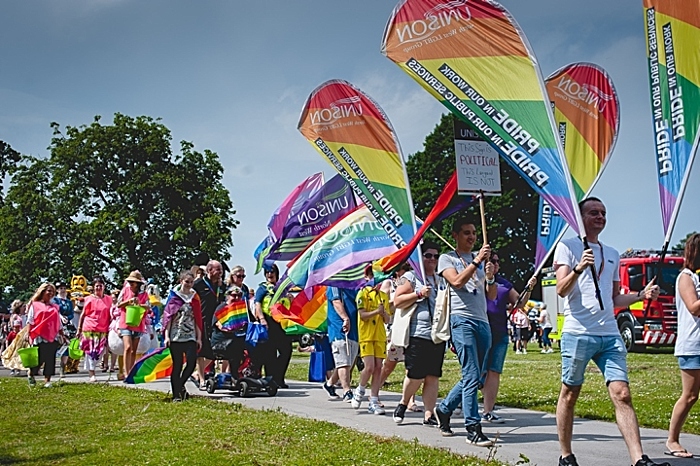 The postponed "Pride in the Park event" scheduled to take place at Queens Park in Crewe has now been set a new date – as a a "Virtual Pride" event.
Virtual Pride 2020 will take place on Saturday July 25 from 2-7pm.
It will feature a mix of interviews, music, competitions, performances and information supporting the LGBT+ community.
Cheshire East Council is organising the five-hour non-stop online event.
Presenters will introduce acts and interviews as the council makes the best effort possible to recreate Pride in the Park to an online audience.
Cllr Jill Rhodes, Cheshire East Council cabinet member for public health and corporate services, said: "I'm so happy that we are going ahead with Pride this year, albeit in a very different format than before.
"At this time of national crisis, it's more important than ever to do whatever we can to lift people's spirits so I'm really proud of the organising team to have come up with a way of doing just that with Virtual Pride 2020.
"I've seen the draft plans of what the event should look like and although I can't give too much away just yet, people can rest assured that it's going to be a fantastic event, and one I hope people from both Cheshire East and from way beyond the borough will strongly support."
Cllr Marilyn Houston, Cheshire East Council's member champion for equality, diversity and inclusion, said: "I'm so pleased that on July 25, we will have the opportunity to watch and listen, laugh and lift our spirits together in the Cheshire East virtual celebration of LGBT+ Pride.
"I can't wait to sprinkle the glitter, tune in and wave my rainbow flag."
Keep in touch with announcements on next month's Virtual Pride 2020 event at www.prideinthepark.com and at Pride in the Park Facebook page, which is @PrideInThePark2020
"Pride in the Park" is due to return to Queens Park, Crewe as a live outdoor event on Saturday 19 June, 2021.