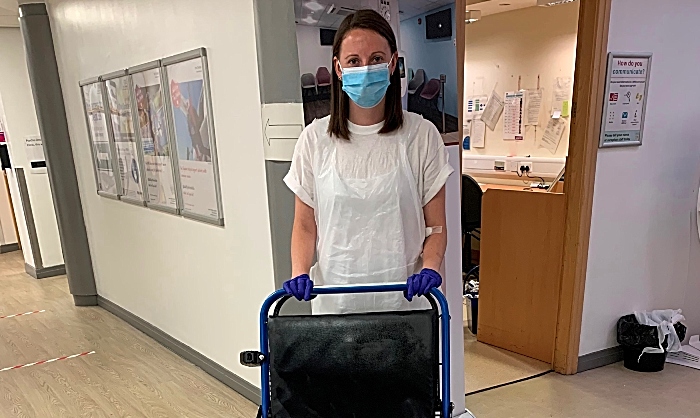 A Nantwich volunteer has been among vital charity staff who have stepped in to help Christies patients during the Coronavirus outbreak.
Staff at the charity wanted to help cancer patients directly and so were allocated to a variety of different roles across the hospital.
And among them is Sally Rowley (pictured), a sporting events officer from Nantwich.
The 27-year-old has been taking on portering duties and screening patients coming into the hospital.
Charity staff have been providing support for hospital colleagues including providing transport for patients at risk to get them to their essential appointments, delivering essential pharmacy medicines, providing portering support and screening patients coming into the hospital.
This ensures patients who may have the COVID-19 virus are identified quickly, offered appropriate support and do not put other patients or clinical staff at risk of catching the virus.
Sally said: "As charity staff we are more than happy to support the Trust with anything which helps during this challenging time.
"The screening service is a brand new team set-up due to the coronavirus pandemic to help ensure the safety of patients and staff when entering the hospital.
"It's a privilege to be able to support our clinical colleagues in this way so that they can continue providing the vital services for cancer patients undergoing treatment during this challenging time."
The Christie charity supports the work of The Christie NHS Foundation Trust providing enhanced services over and above what the NHS funds.
This includes money for care and treatment, research, education and extra patient services.
Gifts from the public make a huge difference to the care and treatment that The Christie is able to provide to patients and their families.
The Christie NHS Foundation Trust was the first specialist trust to be rated as 'Outstanding' twice (in 2016 and 2018) by the health regulator the Care Quality Commission (CQC).
Local people can continue to support the work of The Christie charity during the COVID-19 pandemic by visiting www.christies.org/donate