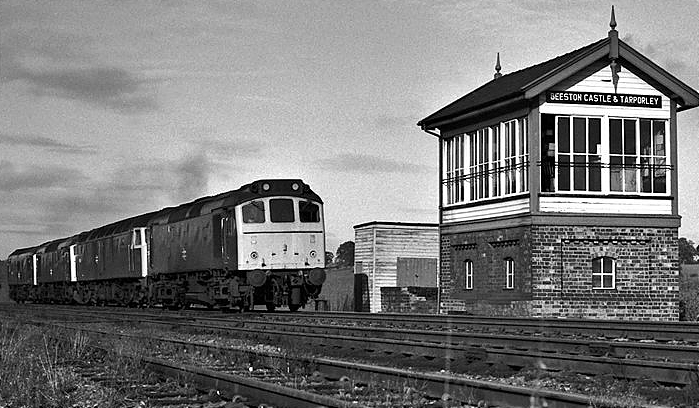 Beeston Castle and Tarporley railway station could be reopened as early as December 2022, it emerged today.
It is one of 50 proposals submitted from around the UK to the Government's "Restoring Your Railway Fund".
Top railway construction professional Mike Flynn has submitted a plan, backed by Eddisbury MP Edward Timpson, for re-opening the station which was closed back in 1966.
If successful, the Government's Restoring Your Railway Fund will pay 75% of the £66,000 cost to produce a full transport and economic study and business case.
Future funding to develop projects would be subject to the agreement of the business case.
And if that gets the go ahead, Mr Flynn said today a timeline could see a station open and in operation on the Crewe to Chester line by December 2022.
Mr Flynn, who lives in the Tarporley area and has worked on rail projects around the world, said: "There has been a steep 10% rise in the population around here since the last Census in 2011.
"There is a real need for this station and we believe we have a strong case for it, but it is very early days."
Only 10 of the 50 projects submitted to DoT will be approved.
But the Tarporley proposal already has land set aside for building a new station which would cost approximately £4 million.
"We've submitted a full programme to the Dept of Transport and it has the station opening in December 2022," added Mr Flynn.
"That's if everything falls into place without any delays, which is optimistic.
"But the station itself will not take long to build – we've allowed a year for it and land has been reserved in the local parish plan."
Mr Timpson believes a revamped Tarporley station would bring major benefits to the area.
He says it would support economic and job growth by connecting Tarporley to employment centres of Manchester, Chester, Liverpool, Crewe and Stoke, and improve connectivity by providing mid-Cheshire with easy access to the national rail network.
It would also boost local economic growth by providing public transport access for those wishing to visit mid Cheshire's tourist attractions.
And it could alleviate pressure on the A51 between Nantwich and Chester which has suffered congestion.
The Conservative MP added:  "Although competition for funding is fierce among a crowded field, it is my genuine hope that we will be able to work closely together with the Department for Transport on the next phase of improving public transport for the rural communities of Mid Cheshire.
"Fingers crossed—nothing ventured nothing gained!"
A local campaign highlighting the need to re-open Beeston Castle station was initially launched in 2016, and several thousand signatures were presented to the then MP Antoinette Sandbach in 2019.
Tarporley station was opened in 1840 as part of the Grand Junction Railway's line from Crewe to Chester.
There were several local stations on the same line including Worleston, Calveley, Tattenhall Road and Waverton.
But in 1963, the Beeching Report on the reshaping of the railways included a recommendation that Tarporley station be closed, which it finally was in 1966.
(Image, top, by David Ingham, creative commons licence)