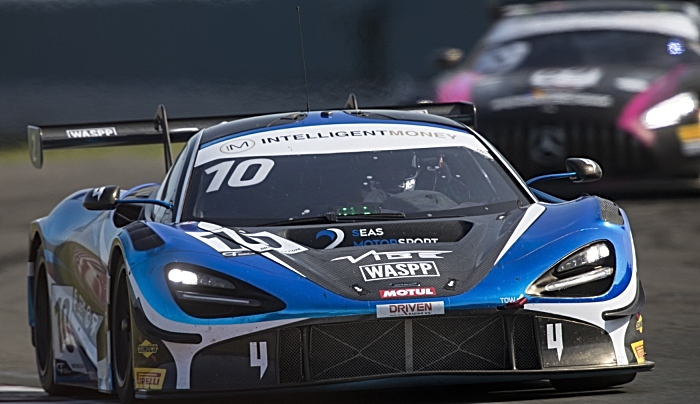 Nantwich's British GT Championship driver Jordan Witt enjoyed more Donington Park success with his fourth Silver Cup podium finish of the year in round six.
Witt overcame a tricky qualifying session in impressive style, starting 11th overall after sustaining a luckless tyre blow-out in the grid-determining run.
And with 2 Seas Motorsport team-mate Jack Mitchell, he starred in a three-hour encounter on Sunday to just miss an outright podium.
Ending the contest fourth overall, third in the Silver Cup, the McLaren 720S GT3 duo's excellent showing means they depart Leicestershire fourth in the Silver standings, just nine points shy of the top three, and equal sixth in the outright championship.
Witt was very happy with his performance – especially a remarkable start to the race, leaping from 11th to sixth.
"We obviously couldn't show our true pace in qualifying with the blow out, but we knew we'd be strong in the race as we were a second quicker in warm-up than we'd been in qualifying," he said.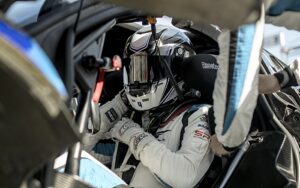 "The race went really well, most of it was done off the start to be honest – I knew I had to go for it where I could find any gaps.
"The driver changes were all bang on, everything went faultlessly with the team and followed our plan.
"We learnt a lot at Donington last month which we took forward to this weekend, it's just a shame we couldn't start the race where we should have as we had the pace for a lot more."
Qualifying had turned into a nightmare from the outset in session one when a blow-out early in the run left Witt having to crawl slowly back to the pits.
With only enough time to set one flying lap, he posted a best of 1m28.666 seconds which placed him 11th fastest.
In session two, Mitchell set a lap of 1m27.781 seconds and on combined times they qualified 11th on the grid.
Witt took the opening stint of Sunday's three-hour race and made instant progress.
Witt took advantage of a multi-car prang to move up to sixth, right behind the sister 2 Seas Motorsport car.
On lap 31 Fender pitted and so Witt moved up into fourth place, then third when another of the front-runners entered pitlane.
At the end of lap 40, just into hour two, Witt pitted from third and Mitchell climbed into the driving seat.
Joining the race in seventh place, sixth in the Silver Cup, he then moved up the order as the cycle of pit-stops played out.
Witt got back behind the wheel for his final run with 75 minutes to go and threaded back into the race in fifth, third in Silver.
At the end of hour two the Cheshire racer moved up to fourth overall and second in class when James Baldwin pitted, and Witt then handed over to Mitchell for the final time at the end of lap 79.
Rounds seven and eight of the British GT season, the penultimate race meeting of the campaign, will take place over the weekend 3rd/4th October at Snetterton 300 Circuit in Norfolk.
2020 British GT Championship 'Silver Cup' Driver Standings
4th Jordan Witt/Jack Mitchell, 108pts
2020 British GT Championship GT3 Driver Standings
=6th Jordan Witt/Jack Mitchell & Yelmer Buurman/Ian Loggie, 60pts
(Copyright free images for editorial use courtesy Patrick Gosling/Beadyeye Photography)