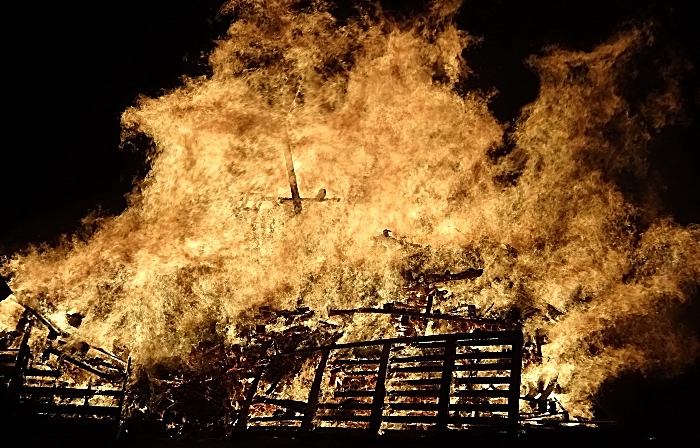 Firefighters in Cheshire are urging people to think twice before they light a bonfire or have a firework display in their garden.
Fire chiefs are concerned the spike they saw in garden fires at the start of lockdown may repeat itself around Bonfire Night as all professionally organised bonfires are cancelled.
The service is encouraging people to consider safer options to celebrate Bonfire Night that doesn't involve flames or fireworks.
Station Manager Andy Gray is the Deliberate Fire Reduction Manager for Cheshire Fire and Rescue Service.
He fears people may underestimate how quickly fires can escalate out of control and how unpredictable fireworks can be.
He said: "Our top priority during this period is to ensure public safety.
"I would ask people not to be tempted to celebrate this Bonfire Night with a fire and fireworks in their own garden.
"Our message is clear – please don't be tempted to do so as it brings with it a huge amount of risk.
"Any fire can quickly get out of hand and spread to fences, sheds and properties.
"It can also cause harm and endanger life.
"I would therefore urge people to stay safe by thinking of other ways of celebrating the event instead."
He said fire crews will be working with police and local authorities to keep the number of incidents as low as possible.
Anyone who spots a build-up of rubbish, intended to be used as a bonfire, can report it to their local council immediately on the following number:
•In Cheshire East report unlit dangerous bonfires by calling 0300 123 5011
•In Cheshire West And Chester report unlit dangerous bonfires by calling 0300 123 7026
•In Halton report unlit dangerous bonfires by calling 0303 333 4300
•In Warrington report unlit dangerous bonfires by calling 01925 443322
Since the start of lockdown in March, the service saw a 93% increase in its 999 calls for firefighters to attend fires involving private/domestic gardens/allotments over a six month period compared to the same period in 2019.
Andy added: "We saw the impact garden fires had on our emergency cover at the start of lockdown so our concerns are genuine.
"This is the busiest time of year for our firefighters anyway – the concern is that this resource could be stretched even further.
"We do understand that people will want to celebrate Bonfire Night, but I would hope that this year they follow our advice and consider safer options.
"If they don't, I would seriously urge them to take extra care and think about safety first, before enjoyment."
Advice for anyone considering using fireworks:
Stand well back
Keep pets indoors
Keep fireworks in a closed box
Only buy fireworks that are CE marked
Light at arm's length, using a taper
Follow the instructions on each firework
Never give sparklers to a child under five
Don't drink alcohol if setting off fireworks
Always supervise children around fireworks
Light sparklers one at a time and wear gloves
Never put fireworks in your pocket or throw them
Never go near a firework that has been lit – even if it hasn't gone off it could still explode
Pour water on the embers before leaving
Fireworks must not be bought or used by anyone under the age of 18 and fireworks must have the CE safety mark printed on them.
They also frighten animals and people inside their homes so this should also be taken into consideration before they are used.