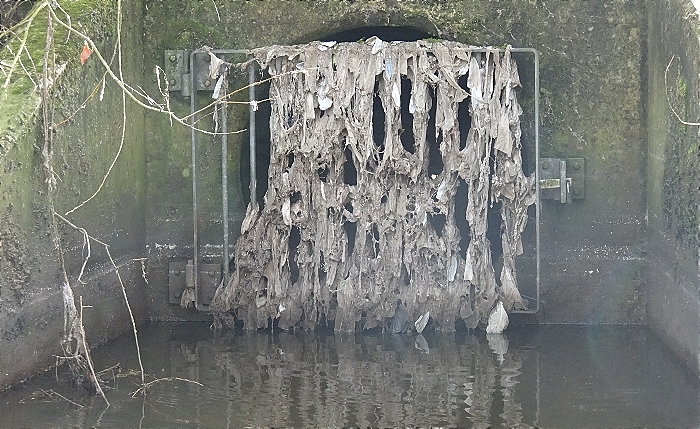 Wistaston residents fear polluting waste from a storm drain at Wistaston Brook is killing wildlife and causing "vile" odours in the area, writes Jonathan White.
The storm drain has been flooding the brook which runs along the popular Joey the Swan recreation ground, where families go for exercise and walking dogs.
They say recently the Brook has been flooded with toilet waste, wet wipes, nappies and sanitary products.
Waste has become lodged in the safety grill of the storm drain and also trapped further downstream in sections of the banks of the Brook.
One villager said: "An abhorrent stench is emanating from the storm drain!"
It is believed the storm drain became inundated by the large quantity of rain during storms in recent weeks and the trapped waste is a result
Dozens of people have complained on social media.
Comments on Facebook range from "Absolutely Disgusting", "Omg that is vile", "The brook is a lifeless stretch of water with little wildlife…..no bloody wonder", and "the smell is awful."
However, some people responded that the discharges should not be linked to the construction of the new, adjacent Bloor Homes 'Wistaston Brook' housing estate which will consist of 300 dwellings on its completion.
The incident has been reported to United Utilities. It's not clear who has responsibility for it.
A spokesperson for United Utilities said: "We're sorry for the unsightly debris in Wistaston Brook.
"We carried out a full clean-up of the area on Wednesday so hopefully everything is back to normal.
"The pipe is an emergency overflow pipe. These are installed on all sewer systems to prevent flooding during severe storms.
"They stop sewers getting overwhelmed by excess rain water, which could flood places like town centres or residential streets, by diverting it safely to a local watercourse.
"So, although it looked unpleasant, this pipe had done its job by preventing flooding elsewhere in the town during recent exceptionally heavy rains, like the recent Storm Christoph.
"This is unlikely to have harmed the brook because the contents of the sewer would have been very dilute when they overflowed and the brook itself would have been swollen by rain, diluting the storm water again.
"The screen on the end of the pipe stopped much of the debris getting into the brook.
"We check these regularly, particularly after storms and carry out a clean-up wherever needed.
"We can all play our part as well to reduce sewer debris by putting bathroom rubbish and wet wipes in the bin, not flushing them away."