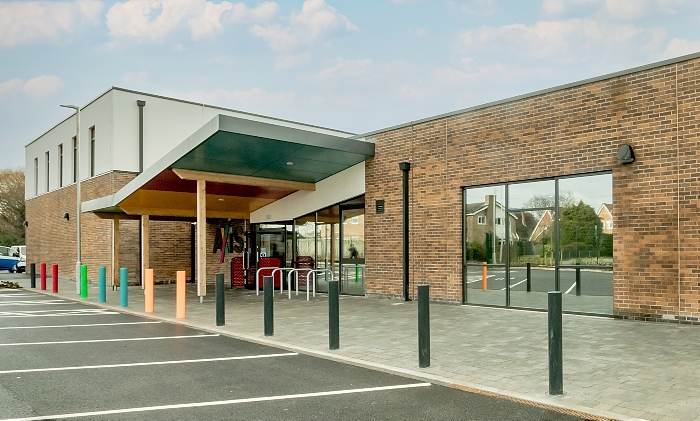 A South Cheshire school which supports children with educational needs has now moved to a permanent location.
Axis Academy is for pupils with an Education Health Care Plan for Social Emotional and Mental Health.
It offers places to children and young people, aged four to 16, with special educational needs and disabilities (SEND).
The school had been teaching children temporarily from The Stables on Warmingham Road in Crewe.
But it has now moved to its permanent base at Lodgefields Drive, Crewe.
Cheshire East agreed to increase places for children and young people with SEND in a plan agreed in 2017.
Many pupils with SEND had long journeys to and from school. One in five were travelling more than 45 minutes each way and many outside of the borough.
Axis Academy is run by the Youth Engagement Schools Trust opened in September to 32 students, increasing to 48 by next year.
Cllr Kathryn Flavell, Cheshire East Council cabinet member for children and families, said: "It's such a great piece of news to see this wonderful school move into a suitable location to enable staff to continue providing an extremely valuable service to some of our more vulnerable children.
"It's a really difficult time in education with many of our children home-schooling, so to be able to share this news is a much-needed boost.
"Everyone involved with moving into the new building should be really proud of the achievement."
Nic Brindle, chief executive officer of the Youth Engagement Schools Trust, said: "As a trust focused on supporting some of the most vulnerable children in the northwest, we are delighted to get this superb building that will help our learners realise their potential and aspire to be more."
New headteacher Emma Colley said: "We believe that children with special educational needs deserve the same opportunities in life as every other child.
"Our ultimate aim is to prepare children to be successful adults who go on to live happy lives."
More information on The Axis Academy can be found at www.theaxisacademy.org