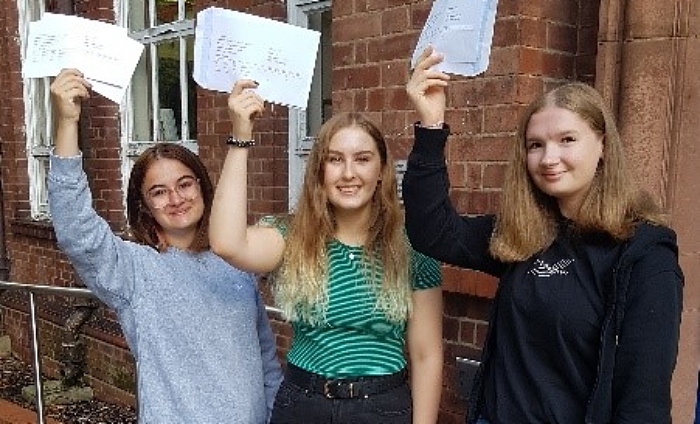 Students at Malbank Sixth Form in Nantwich have celebrated top A level results today.
They collected their results after what headteacher John Harrison described as "their most challenging year in education".
This year grades were based on internal assessment which were decided by teaching staff rather than the traditional exam paper experience.
Mr Harrison said: "We are both pleased and relieved that despite the difficulties these students have faced over their two years of A-Level study that they have still managed to achieve the fantastic grades that they have.
"We are incredibly proud of the hard work and effort they put in and the resilience they showed in overcoming the constantly changing landscape as they navigated their way through year 12 and 13."
Results, although difficult to compare to a traditional exam year, showcased another year of improvement and several students achieved an outstanding set of grades.
Amy Heath achieved A*A*A and is going to study Forensic investigation at Keele, and Sophie Oakden attained A*A*A and is going to read Psychology at Lincoln.
Harry Ford received grades A*A*B and is on his way to Loughborough to study Product Design.
Alice Dunning accomplished grades Distinction*AA and Kaela Preece received A*AA as did Jack Wilde and Charlotte Johnson who will be studying Game Art at Futureworks in Manchester.
Director of Malbank Sixth Form Stacey Falamarzi said: "Whilst we are clearly proud of such academic achievements we are just as proud of them in terms of the people they have become during their time with us."
Mr Harrison added: "We know it has been hard for all students and we certainly look forward to a September that may feel a little more normal at school and can't wait to welcome our students back.
"However, today is evidence that despite massive challenges, when we put our minds to something and work hard together, we can achieve anything.
"It is that positive mindset and strength of character that has led our students to achieve such great things this summer."
(Pics: Above – Alice Dunning, Emily Cunliffe and Harleigh Cornwell. Below – John Harrison (Headteacher) celebrating with Kaela Preece and Harry Ford, and Mr Falamarzi (Director of Malbank Sixth Form) congratulating Sophie Oakden on her exam success)