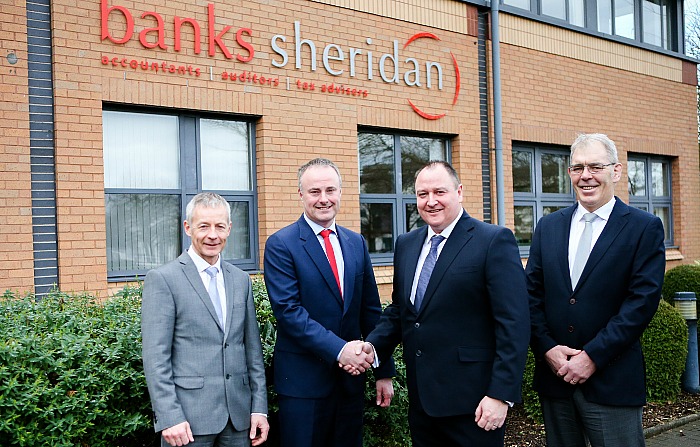 Two well-known accountants firms in Nantwich and Crewe have merged.
Crewe-based Banks Sheridan has joined forces with Nantwich firm Sammons & Co.
The merger is designed to create a single multi-disciplinary accountancy team.
The new business will operate under the Banks Sheridan name, from Crewe Business Park.
It will have a combined workforce 16, dealing with accountancy and audit, all elements of tax advice and compliance, bookkeeping, payroll and workplace pensions, plus comprehensive business advice.
Sammons & Co head Paul Sammons joins the existing directors of Banks Sheridan, Stuart Banks, David Morris and Darren Walley.
Paul said: "It's great news for clients of both practises.
"The merger means we will be better equipped to handle a wider variety of accountancy and business advisory affairs.
"However, we will still retain that friendly approach we have built with our clients as we move the combined business forward."
Banks Sheridan director David Morris added: "Both Banks Sheridan and Sammons & Co are already well established in the local business community.
"The breadth of experience we have between the four directors, together with our excellent team means the professional services we can now provide will be second to none.
"The merger broadens our client base and the new staff structure adds to our existing quality and expertise creating a bigger, stronger and better accountancy firm serving Crewe and Nantwich and the surrounding areas."
Banks Sheridan has also announced that Darren Walley has been appointed as new managing director.
He said: "These are exciting times as the merger provides us with a strong foothold from which we aim to expand further in 2017 and beyond, creating more employment opportunities for local people."
Previous MD Stuart Banks, who remains as a director, added: "The new era created by the merger, together with my increased business commitments elsewhere, makes this the ideal time for me to pass over the reins to Darren."