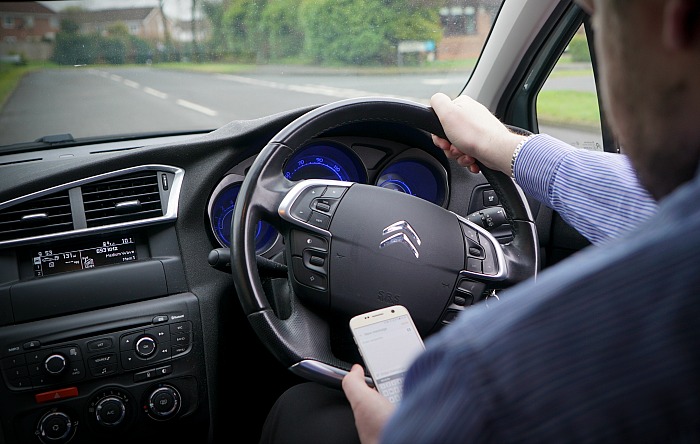 Cheshire Police will be targeting drivers in the area using mobile phones at the wheel as part of a national week of action.
From today (January 22), officers will be on the lookout for anyone scrolling through social media, texting or taking a call while at the wheel.
National figures show drivers who use mobile phones at the wheel are four times more likely to be involved in a collision.
In 2017, Cheshire Police officers handed out 1,822 tickets to motorists who were stopped for using their phone while driving.
Anyone caught driving while using a mobile phone faces a £200 fine and six penalty points, as well as an increase in car insurance premium.
This could result in the driver losing their licence and even their job.
Inspector Steve Griffiths, from Cheshire Roads Policing Team, said: "I've dealt with many serious and fatal collisions throughout my career but more and more incidents involve the use of mobile phones at the wheel.
"Checking for a text, or picking up the phone could be enough of a distraction for you to kill someone at the wheel.
"Having that on your conscience and facing a prison sentence just isn't worth it."
As well as enforcement, the campaign will focus on educating drivers about the dangers of driving while using a hand held device.
Throughout the week-long operation, the force will issue messages through the @CheshirePolice and @CheshPolTaskforce social media accounts.
Police and Crime Commissioner for Cheshire David Keane (right) said: "Road safety is one of my priorities and it is pleasing to see the work the Constabulary is undertaking to help make Cheshire roads safer.
"I have great admiration for the work undertaken by our family liaison officers, who have the heartbreaking role of informing families their loved ones have died.
"However, much of their work could be entirely avoidable if motorists paid more attention to the road, rather than their mobile phones."
Inspector Griffiths added: "This operation is not just about issuing tickets.
"It's also about educating motorists about the dangers of using a mobile phone while driving to help prevent tragedies occurring.
"My advice is simply. If you're driving a car, concentrate on the road and not your mobile phone.
"It could be the difference between life and death."