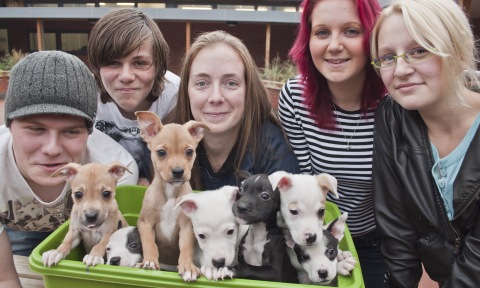 Eight puppies dumped and left for dead in a cemetery have been hand-reared back to health by a team of Nantwich staff and students.
The newborn pups were less than a day old when they were found abandoned in a cardboard box in Stoke-on-Trent.
But thanks to the care shown by Reaseheath College tutors and students, the young pooches are full of life once again.
Charity Animal Lifeline contacted Reaseheath lecturer Emma Caskie because of her specialist skills in hand-rearing puppies.
For the past eight weeks, Emma has cared for the pups at her Crewe home and at the Nantwich college, where she is an animal management lecturer.
This included feeding every two hours day and night, first by syringe and then by bottle.
Now the whole litter is weaned, vaccinated and looking for caring new homes.
The puppies are a small, terrier-type cross breed and there are four males and four females.
Emma said: "Having the puppies at college has provided an ideal opportunity to teach students about responsible ownership, about the skills and dedication you need to foster young animals and about the work done by rescue charities to promote the neutering of animals.
"This was an extreme case and there is no doubt the puppies would have died without prompt action from Animal Lifeline.
"The fact the whole litter has survived has been a really good outcome, although I was very short of sleep for the first few weeks!"
The puppies have been used to teach students from foundation to degree level and vet nursing students.
"They have become a great favourite with everyone," added Emma.
"We'll really miss them but it's great to know they'll be going to good homes."
Tammi Forester, 17, is a weekend volunteer with Animal Lifeline along with fellow students Jack Hughes and Rachel Sherratt.
She said: "It's been good to see how fostering is done. It's been great seeing the puppies grow up. They're such lively characters!"
Students have also organised a collection of pet food and products for Animal Lifeline. Donated gifts will be delivered to the charity in time for Christmas.
Anyone interested in offering a home to one of the puppies should contact Animal Lifeline on 01782 638341.
Picture (courtesy of Reaseheath College): Will Nixon, Jack Hughes, Tammi Forester and Rachel Sherratt, all Level 3 Extended Diploma in Animal Management students, admire the puppies with lecturer Emma Caskie