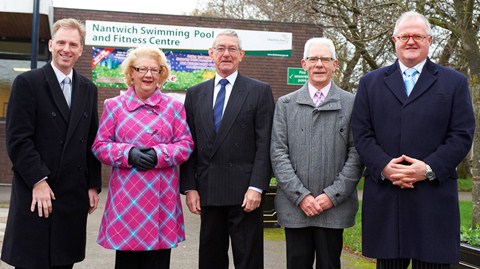 Nantwich councillors took a tour of the facilities at Nantwich Swimming Pool which is to get a £1.4 million revamp.
Cllrs Arthur Moran and Penny Butterill, of Nantwich North ward, and Cllrs Peter Groves and Andrew Martin, of Nantwich South and Stapeley, all visited the Wall Lane pool this week.
They were joined by Cllr Rod Menlove, Cheshire East Council Cabinet member for environmental services.
The £1.4m money is to be spent on changing rooms, showers and toilets to create a 'changing village' – a unisex changing area with cubicles and individual family changing rooms.
There are also plans to create a new entrance and enhanced fitness facilities as well as improved roofing, paved surfaces, a new boiler, pool filters and air handling unit.
The council hopes a design and build contractor will be appointed before Christmas when a programme of works will be firmed up.
Cllr Moran, who is Mayor of Nantwich, said: "With the outdoor brine pool, the Nantwich Swimming Pool complex is a unique feature in the North West and this investment will improve its appeal for both local people and tourists."
Cllr Butterill added: "We have waited a long time for the update of our swimming pool so this is really good news for Nantwich."
Cllr Groves said: "I am delighted the pool enhancements are going ahead and I look forward to other developments for Nantwich taking place on an ongoing basis."
And Cllr Martin added: "As someone who has used the pool over the years I am very pleased to see this investment, it is much needed."