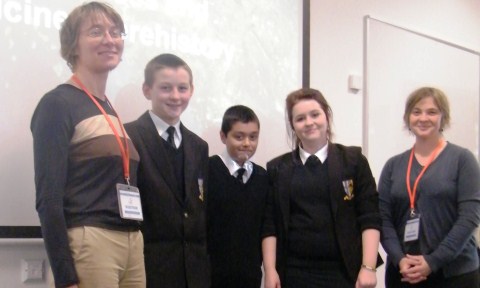 Shavington High School pupils were given some expert help in their archaeology studies.
Experts from University of Manchester shared their knowledge with the students studying the subject for A-level.
Doctors Ina Berg and Melanie Giles spent an afternoon at Shavington High. South Cheshire College students also joined in the visit.
Ina talked about diseases and the damage it can do to bodies unearthed in archaeological digs, while Melanie put a local slant on the session by talking about the importance of archaeology in Cheshire.
South Cheshire College archaeology lecturer Dr Jonathan Hills organised the first-ever visit from the duo.
Dr Hills said: "The presentation was very useful for our own students who are studying different aspects of archaeology as part of their A-Level course and also for the school students who are likely to continue with the subject beyond Year 11.
"The students asked some very interesting questions and we were delighted that both archaeologists took time out of their busy schedule to come and visit us."