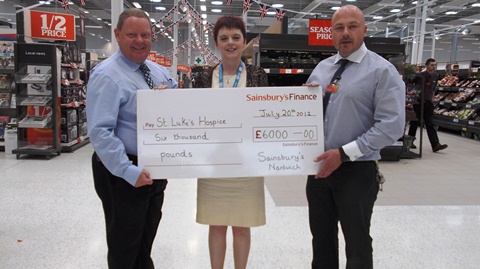 Supermarket staff and shoppers in Nantwich have helped to raise more than £6,000 for St Luke's (Cheshire) Hospice.
Employees and customers at Sainsbury's on Middlewich Road raised the money through various stunts and events.
The hospice has been the store's Charity of the Year for the last year and the money was raised through fundraising activities and generous donations.
Olwyn Payton, spokeswoman for the store, said: "We were delighted to be able to support the hospice and will continue to do so.
"The hospice is always in need of the support of the community especially as many charities are finding it difficult to raise funds at the moment."
Pictured are Jessica Wilkes-Reading, from St Luke's, and Sainsbury's representatives Andrew Perkins and Paul Haydon, presenting the cheque.