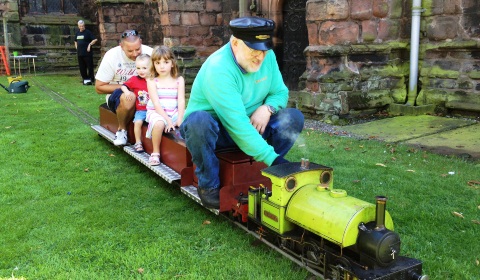 Train enthusiasts have launched an ambitious scheme to build a steam railway line between two Nantwich churches.
The "Nantwich Crossrail" project would ferry visitors between the Methodist church on Hospital Street and St Mary's Church in the town square.
Project leaders said today the idea for the narrow-gauge railway has the backing of both churches and Nantwich Flourish.
Now they intend to approach Nantwich Town Council and Cheshire East to see if they can make their dream a reality.
It would see the track run from the Methodist church, over Hospital Street, down the alley to the Bowling Green car park, along The Gullet, through the pedestrian gate and around the side of St Mary's Church near the Monks Lane/Market Street junction.
A short track of the railway, offering free rides to the public, was temporarily set-up outside St Mary's Church at the weekend to help publicise the idea.
Heather and Paul Durant are spearheading the project.
Heather, of Barony Road, said: "We wanted to know what local people thought, and they were very positive about the idea.
"There are lots of logistical problems and hurdles, not least getting permission for a level crossing over Hospital Street!
"There are six of us who are working on the plans at the moment and thinking about how we would overcome the hurdles, but we are very encouraged by the response at the weekend."
Heather said the route would act as a link for shoppers at Morrisons into the town centre.
"Both churches are very supportive, both Peter Chantry and Malcolm Lorimer are very much in favour," she added.
Paul, a member of South Cheshire Model Engineering Society, was driving the steam locomotive called "Mushy Pea" on Saturday.