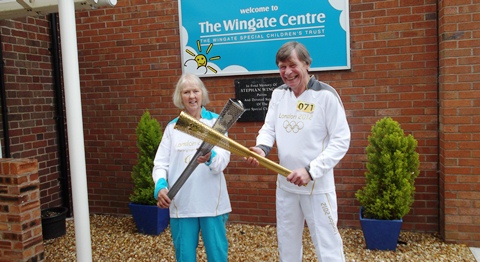 A Nantwich charity champion described the amazing experience of carrying the Paralympic Torch.
Olwyn Payton was nominated by people in the town for her work and in memory of her daughter died after being born with spina bifida and hydrocephalus.
Olwyn was one of only 620 people to carry the Paralympic Flame as part of the London 2012 Paralympic Torch Relay.
She said: "It was really fantastic. I meet some wonderful people and heard some amazing stories.
"I'd like to thanks the many people who made the effort to write in and nominate me. I know that many of my friends are aware that my eldest daughter was born with spina bifida and hydrocephalus and sadly died.
"It has meant my charity interests have always been with youngsters with disabilities."
Olwyn, who works as a press officer for Nantwich Sainsbury's,  fundraises and helps the Wingate Centre in Wrenbury, near Nantwich.
"I often wonder what might have been had my daughter lived," added Olwyn.
A spokesman for Sainsbury's said: "Olwyn's is a truly inspirational story and we are proud to call her a Sainsbury's Torchbearer."
She was accompanied on her trip to London by her three granddaughters Amy, Jemima and Tabitha.
(pic: Olwyn with Chris Bridgman, of Wingate Centre, who was nominated to carry the Olympic Torch)