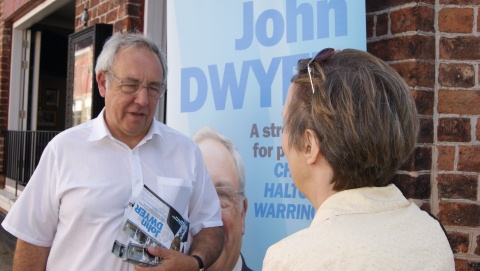 A candidate for Cheshire's new top policing post wants to double the number of special constables and crack anti-social yobs.
Ex Crewe & Nantwich borough councillor John Dwyer also vows to form a team to tackle the county's 100 worst drug offenders.
Mr Dwyer is the Conservative candidate bidding to be elected as Cheshire's new Police and Crime Commissioner (PCC).
In his manifesto, he has set out his plans for the force if he was voted into the position when elections take place on November 15.
He wants to see up to 1,000 special constables on Cheshire's streets in four years, and set up a new "sentencing unit" in the county to appeal against sentences passed down by courts seen as too lenient.
He believes anti-social yobs should be performing more community service orders – with offenders forced to wear high-vis vests with "community payback" emblazoned on the back.
Other ideas include appointing a Youth Ambassador for the force to act as a link to schools and spread the message of dangers of drugs and alcohol to youngsters.
Mr Dwyer, a former Assistant Chief Constable, said: "The introduction of a new Police and Crime Commissioner will mean that, for the first time, you will be able to hold someone to account for policing in Cheshire.
"I will instigate a root and branch review of Cheshire Police and look for more efficient ways of working.
"The savings found by this exercise will be made available to the Chief Constable for frontline policing.
"I will ensure police get tough on the yobbish behaviour that at times blights all our lives.
"Drunkenness, graffiti, littering and dog fouling on our footpaths are all unacceptable and will only increase if we accept or ignore them."