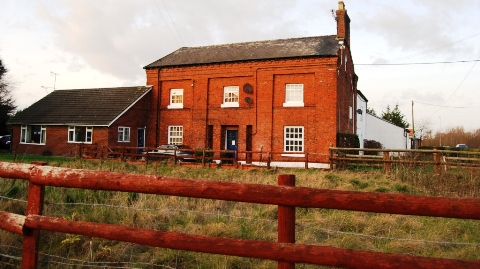 A Willaston and Rope councillor convicted of breaching 11 fire safety regulations, will retain his position as an elected member.
Cllr Brian Silvester was fined £45,000 after what fire chiefs said was one of the most serious breaches they'd dealt with.
Cheshire East Council bosses said today because the sentence was not custodial exceeding three months, he will not be disqualified.
Cllr Silvester, 60, said he and his brother Colin, 58, were "unaware" of a need for a fire risk assessment at their Shavington farmhouse bedsits (pictured).
They were fined yesterday at Chester Crown Court after pleading guilty to 11 breaches of fire safety regulations and for failing to obtain a multiple-occupancy licence.
In a statement, he claimed they took "immediate action" to obtain a licence when they realised their mistake.
"We were also unaware there was a need to have a fire risk assessment," he said.
"This was done immediately once it was brought to our attention. We have co-operated fully with the fire service and the council to introduce enhanced safety measures and other improvements.
"We sincerely regret what has happened."
A spokesman for Cheshire Fire and Rescue said: "We are pleased with the result. This was one of the most serious breaches of fire safety regulations in living accommodation we have ever dealt with.
"Our aim is always to work closely with landlords, giving them all the support and guidance they need to ensure the safety of their tenants.
"However, failure to comply with the law can, as this case has shown, result in a prosecution.
"I would urge all landlords to take their fire safety responsibilities seriously to avoid possible court action.
"We are committed to a Cheshire without any fire deaths and so we will pursue any company or individuals who put the lives of others at risk."
Kim Ryley, Cheshire East Council's interim chief executive, said: "Landlords are required to register houses of multiple occupation to ensure instances like this do not occur.
"Had the property been registered with the council, the necessary health and safety checks would have been carried out and these serious breaches could have been prevented. This is an important example of how the council protects our residents.
"Councillor Brian Silvester will not be disqualified as an elected member as, in accordance with section 80 (d) of the Local Government Act 1972, he has not been given a custodial sentence (suspended or not) exceeding three months."
These pictures (below) illustrate some of the serious fire breaches, including broken smoke alarm, fire hazard, exposed wires, an unchecked extinguisher, a water-filled cellar, and a rope used as a fire escape.
(pics courtesy of Cheshire Fire and Rescue)