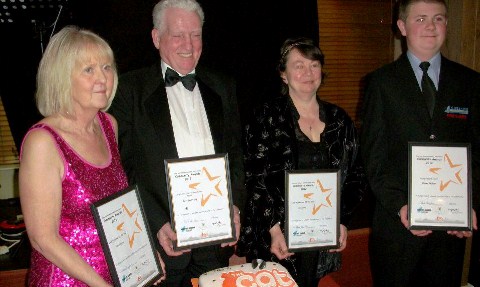 Nantwich-based radio station The Cat has launched its 2nd Community Awards and is calling for nominations.
There are five categories including Long Service to the Community, Local Volunteer of the Year, Local Fundraiser of the Year, Achievement of the Year and Young Person of The Year.
All nominations go before a panel of judges made up of five people who live or work in our community.
A gala awards ceremony will be held in February where finalists will be treated to a night of entertainment and celebration.
Last year, winners (pictured) included Ray Stafford for Long Service, Ann Aspinall as Local Fundraiser, Olwyn Payton as Local Volunteer, Emma Timmis for Achievement, and the young trio of David Lewis, Kameron Brown-Ford and Oliver Wilson who won the Youth Award.
If you know anyone who has helped their community or you think deserves a thank you for all their dedication to fundraising, now is the chance to show you appreciate what they do.
You can nominate via the website www.creweandnantwichcommunityawards.co.uk
Deadline for nominations is December 15.