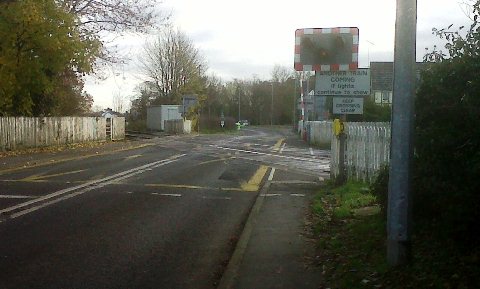 Rail chiefs have warned that three level crossings in Nantwich could be closed down if Muller Property's "Nantwich South" plans are approved.
The warning comes in a Network Rail objection to a first phase application by Muller for their 1,100-home development in Stapeley.
Network Rail also criticises Cheshire East planners after they were only told of the proposal by a member of public, despite the potential for a "material increase" in traffic using the town's crossings.
Muller wants approval for a first phase proposal for 189 homes, employment units, school, and access road to the site between Peter de Stapleigh Way and Broad Lane, Stapeley.
But in the objection, Diane Clarke, of the Network Rail Town Planning Team, states that Cheshire East Council has a "statutory responsibility under planning legislation…to consult the statutory rail undertaker where a proposal for development is likely to result in a material increase in the volume or a material change in the character of traffic using a level crossing over a railway."
They object to the impact it could have on three rail crossings – the town centre crossing on Wellington Road near the station, London Road crossing, and Shrewbridge Road crossing.
They warned: "As a first principle Network Rail would seek to close level crossings and, as in line with the Crewe and Nantwich saved policy, seek funding from the developer for the full cost of all mitigation measures at the level crossings as deemed necessary by Network Rail.
"This could include replacement road bridges and footbridges."
They are now seeking urgent meetings with Cheshire East planners over the proposals.
In a similar case near Wycombe, the Secretary of State ordered after appeal that no further applications should be considered unless it included the closure of crossings.
A spokesman for Cheshire East Council said: "The application does not fall within the council's normal criteria for consulting Network Rail. However, Network Rail believes the proposal has implications for their operation and has requested to be consulted.
"The council will, of course, ensure that they have sufficient opportunity to comment before the application is determined and that their views are taken into account."
The objection is one of more than 330 comments registered by those for and against the controversial plans, which are due to go before the council's Strategic Review Board on December 5.