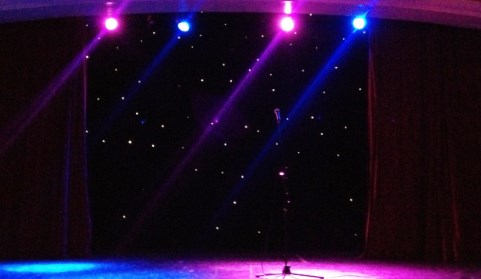 By Jonathan White
Despite the warm weather a capacity audience braved the air-conditioning at Nantwich Civic Hall to enjoy the final 'The Very Best in Stand Up' before a 12-week summer break.
Compere and host for the evening was Toby Hadoke, whose observational humour shone as he picked out men's shirts in the audience which looked like they'd "killed a table cloth".
He linked well with first act Tony Burgess. The father-of-two from Oldham talked about his tough upbringing, joking about how his dad used to take them on a family day out to the tip as they'd see seagulls.
The 40-year-old enjoyed banter with the younger members of the audience amusing, and raised plenty of laughs with clever gags like getting so drunk he thought a 'Soreen' fruity malt loaf was trying to chat him up as it said "unwrap me, squeeze me and eat me" on the packaging.
He got revenge on his lazy sleepy cat recently by pouring Red Bull into its milk and watching it go so hyperactive the next day there was a pile of field mice outside his back door.
Second act on the night was Marlon Davis who said no one took him seriously because of his cheeky chubby face and high pitched voice.
Davis amused the crowd with his own take on relationships, and observing how toilet habits change the more long-term the relationship is!
His other gags including facing-off with a toddler who had poked and pinched his son, and poked fun at online shopping.
Closing the show was Liverpudlian "Silky" who enjoyed putting down a heckler in the audience.
He finished his gig by playing a guitar song with the catchy title "I've got a pig's head on a pitchfork" and warned the audience we'd be singing it out loud ourselves in a few days time.
The new season at the Nantwich Civic Hall starts on Friday September 6 2013.
Compere will be Martin Mor, with comedians Sean Collins (from 'Michael McIntyre's Comedy Roadshow'), Rob Beckett (from '8 out of 10 cats') and Adam Bloom (from 'Mock the Week') lined up to perform.
Tickets are just £10. Doors open 7.15pm, show begins at 8.15pm.