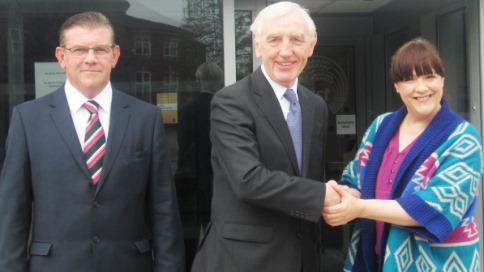 Former deputy leader of Cheshire East Council Brian Silvester has joined the UK Independence Party.
And the councillor for Willaston and Rope said he believes it is "time for fresh start" in the area.
UKIP Cheshire chairperson Cllr Louise Bours welcomed the move.
It comes after Nantwich Town councillor Stuart Hutton switched to UKIP from the Conservatives last year.
"Brian's decision reaffirms the problems faced by the other three main parties," said Cllr Bours.
"UKIP are the opposition in Britain today, and councillors are crossing over to us because in our party they are free to serve the people within their communities rather than 'toeing the party line'.
"In the past week I have welcomed district and borough councillors from Cumbria and Lancashire, it is wonderful to now welcome a councillor from Cheshire too."
Cllr Silvester added: "I am joining UKIP because I think it is time for a fresh start in Cheshire East with a new party.
"Since the new council was formed in 2009 it has reeled from one disaster to another.
"The current Conservative leadership is treating local electors with contempt. They believe they will get re-elected no matter how many times they ignore the concerns of local residents, or damage their interests.
"UKIP are now a recognised powerful alternative to the LibLabCon parties. UKIP have shown nationally they can pick up votes from all the three old parties and also win votes from those who given up on politics because the other three main parties are now all the same.
"In 2015 UKIP across Cheshire East will be a viable alternative that voters can unite behind to throw out those councillors who have let them down so badly."
"More and more people are saying enough is enough."