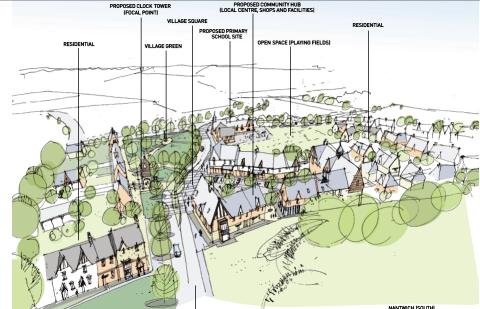 A public inquiry into a controversial plan to build a 1,100-home "Nantwich South" village in Stapeley is to be held on February 18.
Muller Homes wants to build the development, which could include business units, shops and a school, on land between Peter De Stapleigh Way, London Road and Broad Lane.
But their initial planning applications for phase one – to build 189 of the homes and an access road – were taken to appeal after Cheshire East Council moved to reject them.
Now a public inquiry ordered by the Secretary of State is to be held on February 18 at which all interested parties will be able to present their case.
Stapeley Parish Council is to hold pre-inquiry public meeting on February 4, inviting all residents in the parish to air their views and hear what the council's case will be.
The February 4 meeting will be held at the new Stapeley Community Hall next to Pear Tree Primary School, and will start at 7.30pm.
A parish council spokeswoman said: "The date of the much-awaited public inquiry has been set and the parish council has prepared its case.
"This is your opportunity to hear about the arrangements and ask questions. We have also prepared a detailed information note for distribution to those attending."
The public inquiry takes place in the Assembly Room of Macclesfield Town Hall, starting at 10am on February 18.
The inquiry is open to the public, and residents may be able to air their views if allowed by the Planning Inspector.