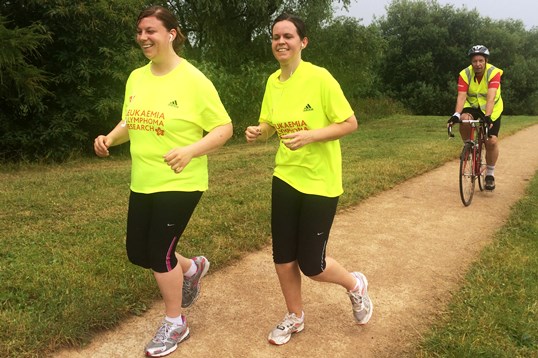 Nantwich sisters Emma and Tricia Boffey have completed a "30k for 30 years" run in honour of their tragic brother.
Will Boffey died in 2007 from acute myeloid leukaemia. His sisters completed a 30k run on the date that would have been his 30th birthday.
Emma started the run from Nantwich Swimming Pool and ran past various places linked with Will, such as the Barony playing fields, Brine Leas School, Wrenbury Football Club and Audlem Primary School.
She was joined by best friend Kate Harper for the first 10km.
And friends including Franklyn Goodwin, Andy Williamson and cousin Matt Wright ran with her for the middle 10km.
Tricia joined her for the last 10km to their family home in Burleydam.
Emma was supported by father Mike Boffey in his car and Ben Reinhardt on his bicycle.
Emma and Tricia also organised a celebratory party after the run at Audlem Public Hall to raise further funds for Leukaemia & Lymphoma Research.
Nantwich Swimming Pool allowed a collection bucket to be placed on their reception desk during the day.
The sisters also received a donation from the Combermere Arms in Burleydam who ran a raffle for the event.
The day raised several thousand pounds worth of vital funds for Leukaemia & Lymphoma Research to allow them to beat blood cancers.
Emma and Tricia said: "We would like to take this opportunity to thank everyone for their fantastic support and encouragement.
"We have been overwhelmed with good wishes and the fund raising total is amazing!
"We felt proud to have completed the 30 kilometres in good time and we were encouraged by fellow runners and flag waving supporters at various points along the route.
"The day finished with a great Party in Audlem at which several of Will's friends from Brine Leas School and Nottingham Trent University attended, which was a real tribute to our brother."
They are still accepting donations. You can donate by visiting https://leukaemialymphomaresearch.org.uk/people/emma-boffey-llr/30-km-30-years
(Words and pictures by Jonathan White)