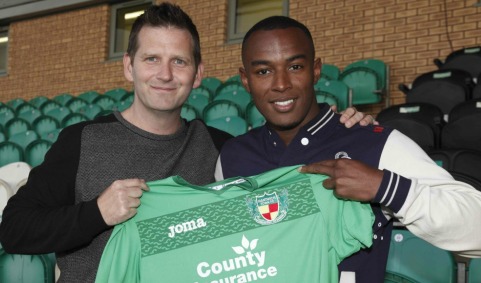 Aaron Burns paid tribute to Nantwich Town fans tonight as the club confirmed his move to Chorley.
Burns originally joined Nantwich in November 2013 (pictured) from Ashton United, along with manager Danny Johnson.
He joined Marine for a brief spell last summer but returned to Weaver Stadium early in the campaign.
He is top scorer for the Dabbers, which prompted Chorley boss Garry Flitcroft to tempt him to play in the Conference North.
Burns said: "I would like to say thank you to the fans for the great support. For me personally, it means a lot.
"They were a contributing factor in my return in September and I will miss everyone involved at Nantwich.
"It wasn't a decision I took lightly but felt it was the right opportunity for me and too good to turn down."
Nantwich boss Johnson said: "Chorley are a team on the up and working with Garry and Matt Jansen was an opportunity that Aaron felt was too good to ignore.
"He is one of the nicest lads in non league football and it has been a pleasure to work with him.
"Unfortunately losing players of Aaron's calibre is part and parcel of non league football management.
"It's just something you have to get on with and it's my job to galvanise the players and regroup.
"Aaron leaves with my full backing and I sincerely hope his move to Chorley is a great success.
"We are still in decent enough shape though and I have one or two irons in the fire both on and off the pitch."
Burns scored 28 goals in all competitions for Nantwich in his first season.
Since returning in September, he scored 15 goals – his last coming at home to Workington AFC.
His current form attracted interest from a number of Conference standard clubs, having scored seven goals in his last eight appearances.
Burns also became the first player to score a goal at Stamford's Zeeco stadium on December 13.
He went on to score a second in the same game, completing his third of four braces for the Dabbers this season.
Everyone connected with Nantwich Town would like to wish Aaron all the best at his new club.