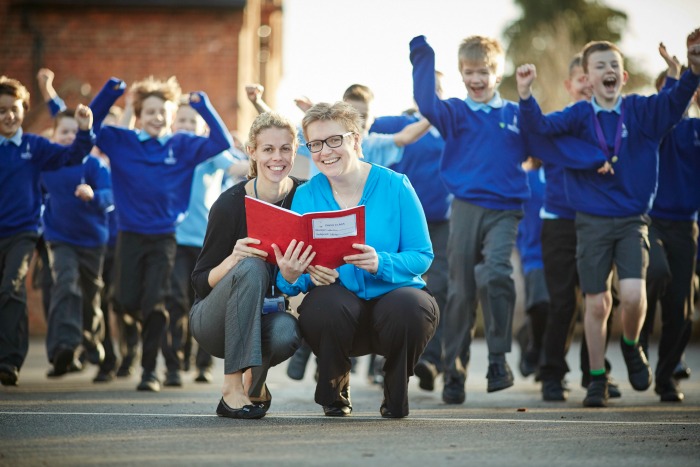 Staff and students at Sound and District Primary are celebrating after SATS results put the school among the best in the country.
The school, on Whitchurch Road in Sound near Nantwich, is in the top 14% of all primary schools in Britain for all subjects.
The statistics are based on progress made by year six pupils when measured from Key Stage One to Key Stage Two.
Headteacher Jo Grundy said: "We are also in the top 11% of all primary schools in the country for our children's progress in Maths, the top 23% in reading and we are now in the top 34% of primary schools nationally in terms of writing.
"Our writing results took a dip in 2013 and we've worked hard to put in strategies to rectify that.
"So we're delighted our children are now writing to a standard significantly above the national average."
Chair of the board of Governors Fred Wright said: "These successes have been achieved as a result of the hard work of the teachers and their assistants, the pleasure the pupils have in learning and the support of all non-teaching staff, governors and parents.
"Well done everyone!"
Sound is a small rural school with its own orchard and wildflower garden.
During the last Ofsted visit, inspectors said: "The school has a family atmosphere in which adults and pupils treat each other with affection and respect.
"The behaviour of pupils is good. Relationships in the school between all adults and pupils are positive and support the school's values and beliefs.
"Children are nurtured so that they can do their best. The enjoyment pupils have at school is reflected in the fact that attendance is above average."
Sound and District Primary School currently has a small number of places.
For more information or to arrange a visit please call the school on 01270 780270.
(Pic: Year Six pupils with their teacher and deputy head Kirsty Newton (left) and head teacher Jo Grundy)