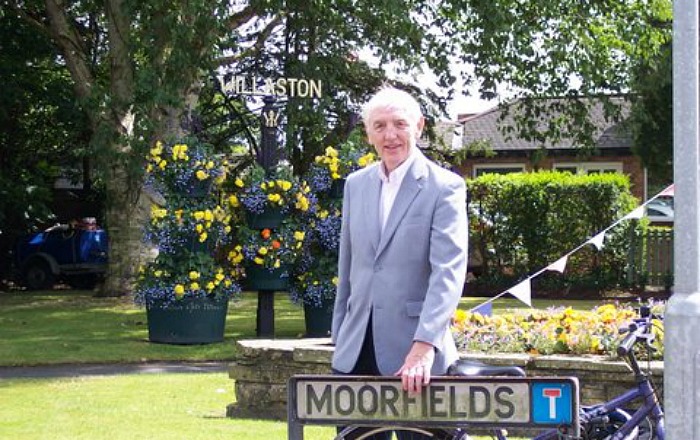 Willaston and Rope Councillor Brian Silvester has been selected as candidate for the ward in Cheshire East Council elections on May 7.
Cllr Silvester has also been nominated for election to Rope Parish Council, with elections on the same day.
The campaigning UKIP councillor said he was "delighted" at being selected to fight for both roles.
"I have represented Willaston for 16 years and Rope for a similar period," he said.
"I always listen to the views and concerns of local residents, I take action and I report back.
"I can't solve every problem but I will always try and my constituents appreciate that.
"I also have a very good working relationship with the two Parish Councils in the ward.
"Willaston and Rope Ward need a strong, independent, influential, experienced voice to represent them to ensure local people get a fair deal from Cheshire East Council, the third biggest Unitary Council in the North West."
Cllr Silvester believes living in the ward – on Rimsdale Close in Rope – is a key factor.
And he believes planning issues are one of the key factors which will influence voters on May 7.
"The biggest concern of my constituents is the planning fiasco that has been inflicted on local residents through the failed Local Plan," he said.
"Working with local residents, the Green Gap Action Team and parish councils, I have been able to stop a 880-house development at Gresty Oaks, partly in Rope, a 146-house development in Moorfields in Willaston, and a gigantic slurry lagoon on the border between Rope and Willaston.
"I have worked tirelessly to improve the roads an footpaths in Willaston and Rope.
"And the council has agreed to re-surface two main roads through Willaston – Wistaston Road and Wybunbury Road.
"I regularly attend Rope Parish Council meetings as Cheshire East Councillor so I thought it would be a good idea to be full member of the council.
"If I am elected, I can have a full say in the council's decision-making.
"My priorities are to stop the green gaps from being concreted over, to make Rope cleaner, greener and safer, and to ensure action is taken to reduce speeding."
Cllr Silvester also wants to target a pelican crossing at Rope Lane/Bankfield Avenue junction, and is pressing for yellow lines around the Berkeley School to be completed.
Cheshire East Council borough elections and town and parish council elections across South Cheshire are taking place on May 7 alongside the General Election.