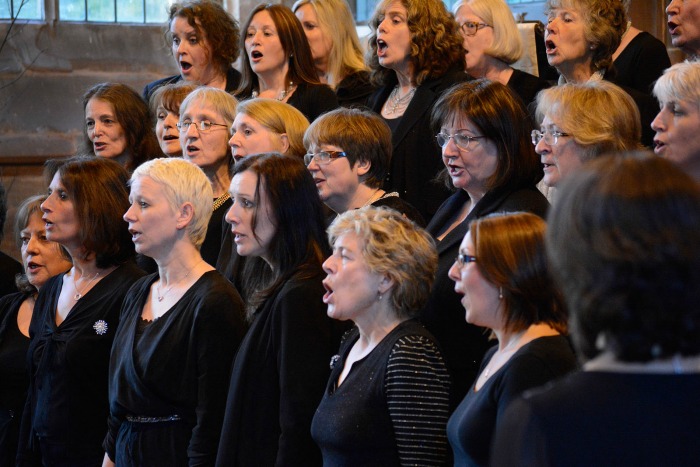 Decibellas Women's Choir of Tarporley hosted a concert with Llangollen Male Voice Choir, to raise funds for St Luke's Cheshire Hospice.
The men's motto "Cyfeillgarwch drwy Gan" ("friendship through song"), formed the theme with both choirs performing pieces from repertoires and joining for a rousing finale.
The concert was held in St Boniface Church in Bunbury which was packed with standing room only.
Tourists visiting the village who heard the choirs rehearsing, returned for the evening performance.
Both choirs and the audience started the event by singing Jerusalem.
Cor Meibion Llangollen performed a mix of traditional Welsh hymns as well as more contemporary pieces such as The Rose and Bring Him Home from the musical Les Miserables.
Decibellas took the audience on a tour of the British Isles, from Scotland with pieces including Chilcott's The Skye Boat Song, via Yorkshire with Scarborough Fair to Medieval England with another Chilcott arrangement this time of an Old English poem, The Lily & The Rose.
Both choirs joined to perform Steal Away, followed by the traditional Welsh folk piece, Ash Grove.
Finally the audience and both choirs raised the roof, in a rendition of Cwm Rhondda.
The High Sheriff of Cheshire, Bill Holroyd was a guest for the evening as well as representatives from St Luke's Cheshire Hospice who joined for a drinks reception after the concert.
Decibellas chair Hazel Rowlands said: "It was a hugely successful evening, raising more than £1,900 for St Luke's Cheshire Hospice who require £7,500 per day to be able to offer their services free of charge to members of the local community.
"We'd like to thank the gentlemen of Cor Meibion Llangollen for crossing the border to join us as well as everyone who turned out in such huge numbers to support the event."