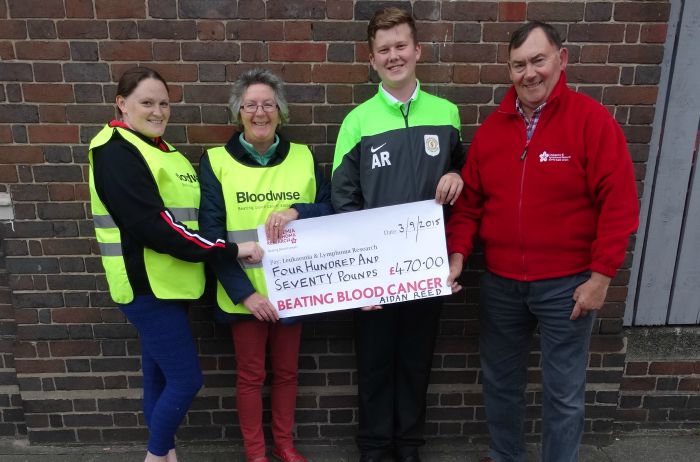 A charity football match organised by a teenager in memory of his uncle, raised £470 for Bloodwise charity.
The event featured an 11-a-side match between Aidan FC and Leukaemia FC at Cumberland sports ground in Crewe.
Aidan Reid, a year 11 pupil at Sir William Stanier Community School, wanted to stage the match after his uncle died from the blood cancer.
"I wanted their vital research to continue so that lives can be saved," Aidan said.
The teenager has also raised hundreds of pounds for other charities including a 9-mile walk for Macmillan (raising £952), a coffee morning for the neonatal intensive care unit at Mid Cheshire Hospitals (£401) and a charity football match last year for Cancer Research UK (£458).
Liz Boffey, from Bloodwise South Cheshire branch, said: "Aidan is an inspirational young person who has raised a tremendous amount of money for charity and he is always full of fund-raising ideas.
"Bloodwise is so thankful to him for his hard work and enthusiasm with this venture.
"Every penny raised will go into researching all 137 different types of blood cancer.
"We are determined to beat blood cancer."
There are still collection boxes at Kezbeccs General Stores (Coronation Crescent, Crewe) and J & H Carpets (Ridgway Street, Crewe) if anyone wishes to donate.
(Pic: Tricia Boffey, Liz Boffey, Aidan Reid, Mike  Boffey)