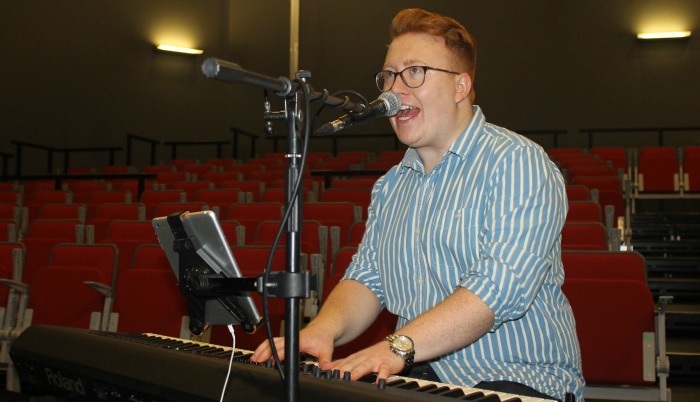 Shavington musician Tom Seals, one of the UK's rising stars of jazz and pop, returned to his old college to fine-tune his act ahead of a UK tour.
Tom and his band took advantage of some last minute practice in South Cheshire College's Centre Stage Theatre before they head up and down the country in October.
The former Music Performance student is making a name for himself with his boogie-woogie blues piano and vocal shows.
Tom will showcase his talents at venues across the UK in Edinburgh, Manchester and London and locally in Congleton and Newcastle-under-Lyme when his UK tour gets underway.
The 22-year-old studied a Music Performance Level 3 programme at South Cheshire College before heading to Paul McCartney's Liverpool Institute of Performing Arts (LIPA) to study a degree in music.
However, the in-demand performer has had to put his degree studies on hold to fulfil his live music and studio commitments.
Tom has worked alongside big name artists like Beverley Knight, Daniel Bedingfield and Tony Christie.
And his debut album 'Ace' soared to number two in the UK Blues Charts when it was released in 2013.
Tom said: "I've always had a great relationship with the college and studying the music course played a big part in helping me to progress in the music industry.
"I'm grateful for the use of the Centre Stage Theatre which is a great venue and gave us the opportunity to get in some last minute practice before we hit the road. I'm looking forward to returning to college again in the near future."
Tom is also heading to Hong Kong to start a November tour.
Phil Farrington, assistant director for Performing Arts, Visual Arts and Media at South Cheshire College, said: "We are very proud of Tom.
"It's fantastic to see a former student with such drive and desire to succeed in the music industry."
To find out more about Tom Seals, and his UK tour dates, visit www.tomseals.co.uk