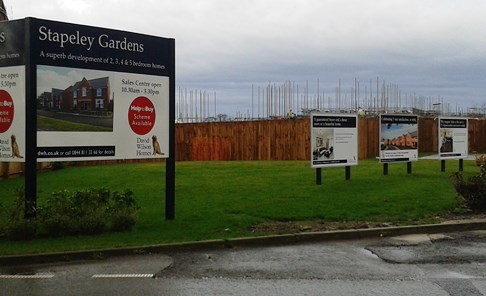 Exclusive
More than £14 million from housing developers is sitting unspent in Cheshire East Council coffers, it emerged today.
The staggering amount was uncovered in a Freedom of Information Act, which revealed only half of Section 106 contributions received from developers since 2010-11 has been invested.
Between 2010 and 2015, £15.25 million was paid to Cheshire East Council by developers under Section 106 conditions for planning approval to build houses.
However, our FOI shows only £7.24 million of that has been spent.
With more than £6 million of Section 106 money in the bank before 2010, and interest gained on contributions since, it means Cheshire East has a total of £14,268,393 in its coffers.
2014-15 was a record year for Section 106 contributions received by the council, totalling £7.6 million. But so far, only a third of that – £2.5 million – has been spent.
Similarly, in 2013-14 the council was paid almost £3.7 million, but has so far only spent £1 million, less than a third.
The number of planning approvals has also risen sharply, according to the figures.
In 2011, 49 approvals were granted to housing developers across the borough.
This rose to 58 in 2012, 70 in 2013 and 79 in 2014.
Some of the bigger developments which included larger Section 106 contributions have included the Queens Drive development in Nantwich, the former Stapeley Gardens site in Stapeley (pictured), St Anne's Lane off Welsh Row in Nantwich, land North of Cheerbrook Road in Willaston, land south of Newcastle Road between Shavington and Wybunbury, and Regents Park off London Road, Nantwich.
Cheshire East has earned almost £50,000 in interest alone on its Section 106 payments in the last five years.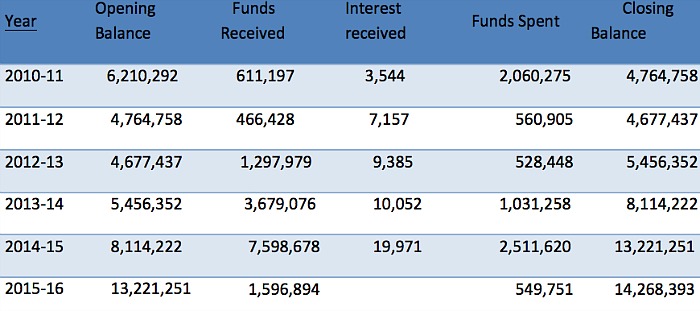 Rope parish councillor Brian Silvester said: "It is amazing that the council is sitting on millions when much wanted safety measures are not proceeding because of lack of funds.
"In Rope we have been campaigning for several years for a Pelican Crossing in Rope Lane to keep students of Shavington High School and residents safe.
"In Rope we have been campaigning for a a drop off point at the Berkeley School to alleviate the chronic parking problems outside the school. Both projects have not gone ahead because of lack of funds.
"Local residents have to put up with the problems caused by new developments and are not even getting the benefit of the infrastructure money the developers have given to the council."
And Pat Cullen, of the Nantwich campaign group Protect Stapeley, added: "It does seem that Cheshire East has received considerably more S106 money that it has spent.
"The headteacher of Brine Leas School recently justified his support for a new development behind Audlem Road saying that the land that may be gifted to the school is because he has received no benefit from new developments in the area.
"Having seen these figures, he may well want to have a conversation with Cheshire Education!"
Reaseheath villagers were hoping Section 106 money as part of the proposed 1,000-house development on former Reaseheath College land would fund a much-needed bypass.
Vicky Higham, of the Reaseheath bypass campaign group, said: "We finally felt we would get some respite with the proposed bypass as part of the Mosaix development, which from my understanding is waiting for the 106, and has been for nearly two years now.
"It's shocking that this hasn't progressed – despite the funding apparently sat in the bank.
"I would urge our local councillor Michael Jones, and the MPs for Nantwich and Eddisbury to address this as a matter of urgency."
Nantwichnews contacted Cheshire East Council on Monday for a comment on these figures and we are still awaiting a response.
According to Cheshire East Council, S106 agreements are "designed to secure financial contributions to provide infrastructure or affordable housing, secure affordable housing, and to specify the type and timing of this housing, restrict the development or use of the land in any specified way, require specified operations or activities to be carried out in, on, under or over the land, require the land to be used in any specified way".
They will require a Section 106 agreement with a developer if it is:
– necessary to make the development acceptable in planning terms
– directly related to the development
– fairly and reasonably related in scale and kind to the development