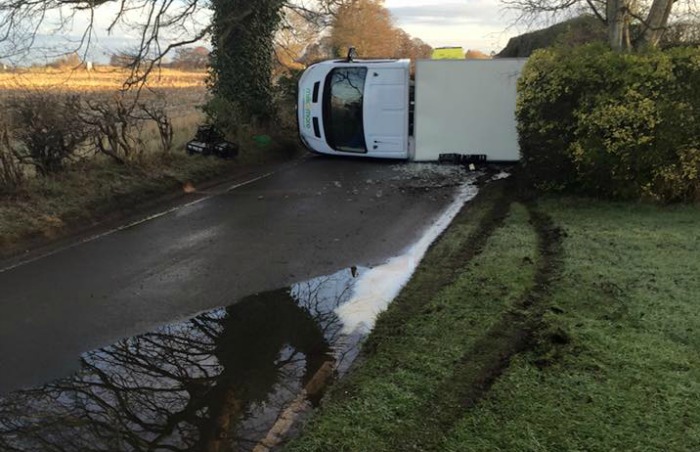 Drivers in Willaston are calling for more to be done to resolve a flooded junction after a van crash.
The driver of this van (pictured) had a lucky escape when his vehicle went out of control at the flood-hit junction of Eastern Road and Rope Hall Lane.
Some drivers say the drains in the area were left blocked for weeks.
Local driver Ian Fisher witnessed the accident at the junction, which is just a few hundred yards from where hundreds of youngsters go to Shavington High School.
"Thankfully he got out with no injuries," said Ian.
"This happened at 8.15am and luckily no children were walking to school.
"The drains have been blocked now for over two months.
"Nothing been done about it, apparently on the January 20 it went on their urgent list."
Another witness Suzanne Lewis added: "I saw this, it was a lucky escape for the driver!"
Cheshire East Highways say they have been out to the junction on a number of occasions.
A spokesman said: "We have attended this location on more than one occasion in response to reports from members of the public.
"We visited in December to undertake emptying and jetting of the gullies and we returned in February 2016 to again clear the gullies and jet the system, in response to further reports.
"The road was left clear of hazards on both occasions.
"Further detailed drainage investigations are now underway to determine the reasons for repeated flooding at this location.
"We urge motorists to take additional care during the winter months and drive according to the road conditions, especially on areas of our network that are not gritted."
(pics courtesy of Ian Fisher)