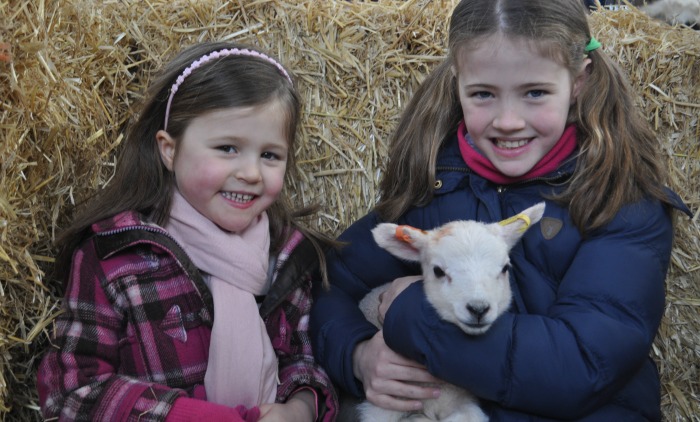 Hundreds of families flocked to Reaseheath College in Nantwich for the first lambing weekend event of the year.
Spring has sprung in the college's lambing sheds with the arrival of the first newborns of the season.
Lambing weekends have been a major draw in the past 20 years, with many visitors returning each season to meet the lambs and experience a live birth.
Five hundred expectant ewes are due to produce 1,000 lambs, including three sets of quads and 59 sets of triplets.
The college's agriculture students have been up through the night to make sure lambs and their mothers get the best care.
The campus zoo is also open to the public.
The zoo houses more than 1,000 animals including meerkats, lemurs, tapirs, otters, companion animals such as rabbits and guinea pigs, reptiles and amphibians.
Families can get involved in handling and flying birds of prey, thanks to student members of Reaseheath College Birds of Prey Society who are running special sessions with some of the college's owls.
Izzy Finan, who was enjoying the event for her ninth birthday celebration, said: "Today has been full of surprises. I've had a great time!"
Reaseheath's lambing and zoo event is on again next weekend, March 12 and 13, 10am to 4pm.
A family ticket for both attractions is £25.
Find out more at www.reaseheath.ac.uk/lambing
(Pictured above:  Sisters Charlotte Duckett, 5, and Katie Duckett, 8, from Audlem, meet one of the newborns)
(Pictured below, from top to bottom:  Ten month old Archie, with mum Jess Evans and Dad Tim Garside from Shavington; Becky Buchanan and three year-old daughter Elizabeth from Wistaston enjoy a cuddle with a lamb; Four year-old Zac Hynes and brother Ben, two, from Willaston, meet a ewe and her new family; Leo Smith, three, and his mum Charlie Smith from Chester meet 'Milky' the Milky Eagle Owl during a bird of prey flying demonstration at Reaseheath's zoo)