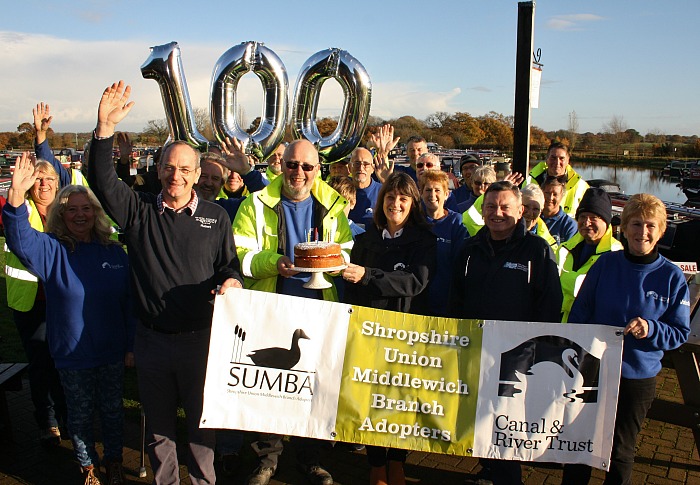 Canal enthusiasts near Nantwich have celebrated a milestone in helping maintain South Cheshire's waterways.
Members of the Shropshire Union Middlewich Branch Adopters (SUMBA) celebrated their 100th volunteer canal work party at Aqueduct Marina, Church Minshull.
The group was formed in April 2014 in response to a call from the Canal & River Trust, the charity which cares for 2,000 miles of waterways.
SUMBA entered the record books by adopting five-and-a-half miles of the Shropshire Union Canal from Barbridge Junction to Church Minshull, near Nantwich – the longest adopted stretch of canal in England.
Most adoption groups look after a mile or less.
And in just over two and half years, their numbers have grown to more than 50 volunteers, with around 25 men and women regularly helping with each activity.
Work has included towpath and canalside maintenance, vegetation control, painting and repairing locks, helping boaters, litter picks, adding waterside picnic tables, benches and barbeques, and planting fruit trees and shrubs.
Their "Clean for the Queen" event in March resulted in a massive 12-mile litter pick from Calverley to Middlewich, involving 35 volunteers including Nantwich cubs.
A hedge-laying project near Venetian Marina was runner-up in the trust's prestigious national Living Waterways Awards 2016.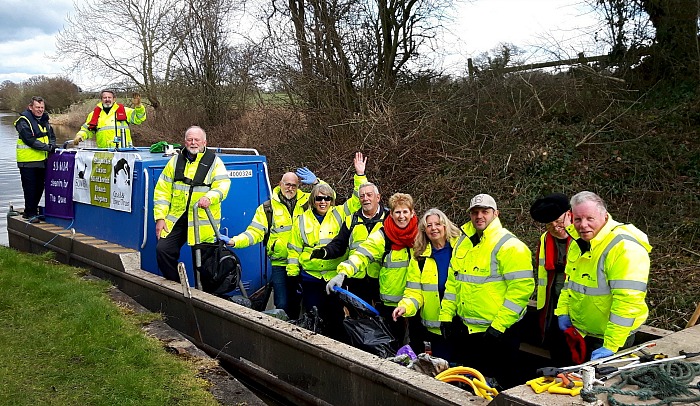 SUMBA organiser Graham Russell said: "Our volunteers have donated more than 4,900 hours to improving the canal.
"The response to our initial call was amazing and the existing group far exceeds our original expectations.
"Now to be celebrating our 100th working party is a great achievement and a source of pride for all our volunteers who have worked so hard with us over the last two and half years."
Wendy Capelle, local waterway manager with the Canal & River Trust, added: "The SUMBA group adoption is a fantastic example of how volunteers play a vital role in improving the canal environment.
"Hundreds of walkers, boaters, anglers, cyclists and joggers have benefitted from their hard work and now have an improved experience along the Middlewich Branch thanks to the SUMBA volunteers."
Pic, top: Celebration at Aqueduct Marina – (LtoR) Front row: Robert Parton (Aqueduct Marina), Graham Russell (SUMBA organiser), Wendy Capelle (Canal & River Trust local waterway manager), Michael Haig (Inland Waterways Association), Sue Russell (SUMBA)