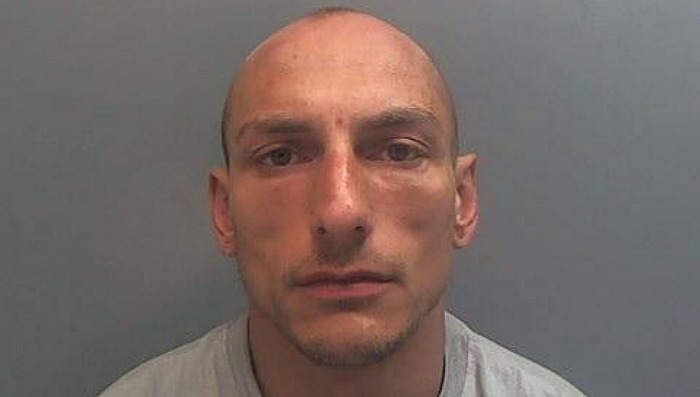 Four men have been jailed total of 30 years after pleading guilty to robbery at a Nantwich jewellers.
Lewis Chalmers, Patrick Massay, Darren McAndrew and Joseph Schofield raided Moody's Jewellers on Pillory Street after smashing a hole in the front window using a sword and a drain grid.
They then dumped their getaway car and set it on fire on Brine Road, Nantwich, before being arrested in a van on the M6 in Staffordshire.
Chalmers, 27, from Oswald Road, in Chorlton Cum Hardy; Massay, 26, Pegwell Drive, Salford; McAndrew (pictured above), 32, of Edlington Walk, Newton Heath; Schofield, 20, from Dob Brook Close, Manchester, were sentenced at Warrington Crown Court yesterday (November 21).
All defendants pleaded guilty to robbery. Chalmers, Massey and McAndrew pleaded guilty to aggravated vehicle taking.
Schofield pleaded guilty to dangerous driving. Schofield, Chalmers and Massay pleaded guilty to two count of affray.
Chalmers and Massey were jailed for nine years, McAndrew eight years, and Schofield 48 months for their part in the robbery on July 27 this year.
They wore balaclavas, forced a hole in the window and stole eight expensive Tudor watches before making off in a vehicle.
A joint operation by Cheshire Police, North West Motorway Group, Central Police Motorway Group, West Midlands Motorway Group and Staffordshire Police traced the van and four men inside were arrested on suspicion of robbery.
Det Con Craig Stevens said: "This is a great result and highlights that we are effectively borderless – no matter where you run, we will work together to capture you and bring you before the courts.
"As well as working with our colleagues from other forces and agencies, we had members of the community coming together to capture footage of the offenders and contacting police with information to help with our enquiries.
"I'd like to thank everyone for helping to put these dangerous men behind bars."
At the time of the robbery, Moody's said on their Facebook page: "Whilst we were safely protected inside the shop by our wonderful security measures, a violent gang of four attacked the windows with various means ranging from a drain grid cover to a Samurai sword.
"After two minutes of trying, and causing great damage to the windows and door, the robbers fled with just eight Tudor watches.
"Following a 28 minute pursuit by Cheshire Police, working with four other forces – North West Motorway Group, Central Police Motorway Group, West Midlands Motorway Group and Staffordshire Police – they tracked down and followed a van on the M6.
"Two Police helicopters were also involved and the robbers were all arrested and, happily, are now behind bars.
"All of us at Moody's would like to offer our sincere thanks to all the Police officers and forces involved in the tracking of the robbers, the controllers of the Cheshire East CCTV system and also the many members of the public who put themselves in harm's way to video and photograph the robbers to assist the Police."