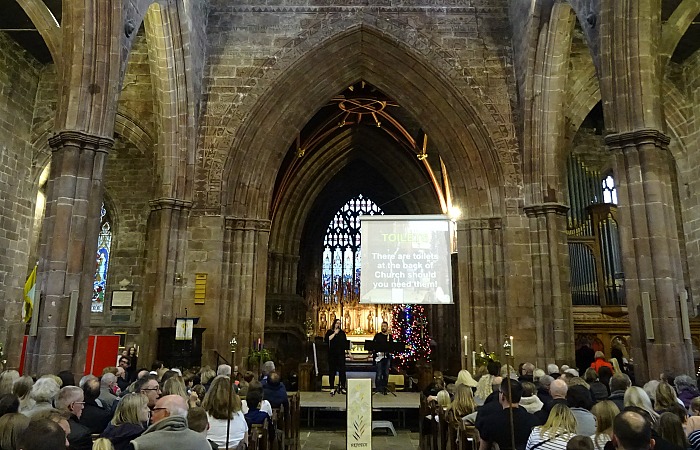 The annual Crib Service at St Mary's Church in Nantwich pulled in more than 2,000 visitors.
This re-telling of the Christmas story was performed with a modern twist three times by a mixture of adults, young people and children at 2pm, 3.30pm and 5pm.
A raised stage and large projection screen meant that capacity congregation could easily view the service and sing the lyrics to the carols.
St Mary's Church Rector Rev Barry Wilson spoke between each scene and encouraged all to join him in prayer.
Then the congregation stood to sing various Christmas carols, including 'Hark! The Herald Angels Sing', 'Silent Night','O Little Town of Bethlehem', 'While Shepherds Watched Their Flocks', 'It Came Upon the Midnight Clear' and 'The First Noel'.
During the penultimate carol – 'Away in a Manger' – the audience waved glow sticks handed out to each person on entry.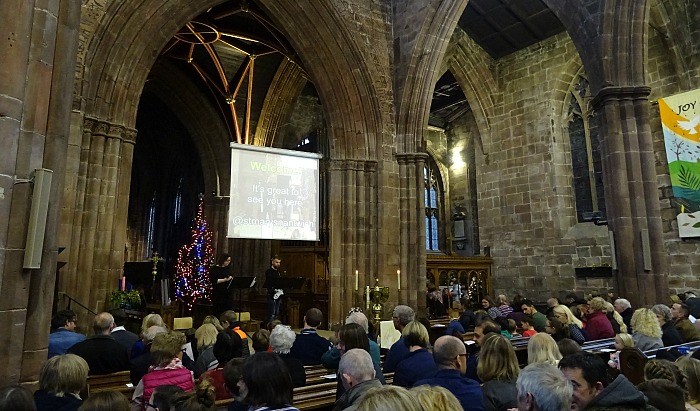 The service was completed with a rousing 'Joy to the World'.
Rev Wilson, who later tweeted 2,400 people had attended the three performances, invited everyone to attend the weekly services throughout the year at St Mary's Church Nantwich.
The 'Alpha Course' begins upstairs in the Parish Hall, next to St Mary's Church Nantwich, on Monday January 23 (8-9.15pm).
Other dates are January 30, February 6, February 13, February 27, March 6, March 13, March 20, and March 27.
For information, call the church office 01270 625268 or email [email protected]
(Pics and words by Jonathan White)