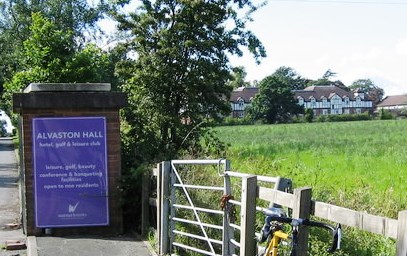 Alvaston Hall Hotel in Nantwich has been closed after staff and guests were hit by a major sickness bug.
The luxury complex, off Middlewich Road, is now closed temporarily after dozens were struck down by sickness and diarrhoea.
Hotel owner and entertainment giant Warner Leisure Hotels closed the venue on Monday.
They are hoping to reopen tomorrow (January 20).
Guests due to stay at the venue this week have been offered refunds, found alternative accommodation or had bookings moved to a later date.
Bosses at Alvaston Hall Hotel said today they had taken the voluntary decision to close temporarily following reports of a vomiting bug among a number of guests and team members.
Hotel management contacted officials at Cheshire East Council and Public Health England following cases of illness and had taken the decision to close for a number of days to allow extensive sanitising procedures to take place.
Management and team are also co-operating fully with the council and Public Health England.
A spokesperson said: "All the guests at Alvaston Hall who reported illness have now left the hotel.
"We are grateful to the team who have worked tirelessly to support our guests return home safely.
"A voluntary decision was taken to close the hotel temporarily in order to allow deep sanitising measures to take place in addition to our regular extensive cleaning regime.
"Local health officials have visited the resort and are continuing to liaise with management.
"It is planned that the hotel will reopen on Friday."
Public Health England's Cheshire & Merseyside Health Protection team is working with Cheshire East Council to investigate the circumstances.
It is believed the cause of illness is norovirus and investigations are continuing.
Dr Anjila Shah, from the Cheshire & Merseyside Health Protection Team, said: "Our Health Protection team is working with the hotel and environmental health officers from Cheshire East Council to investigate the incident and ensure measures are in place to prevent any further spread.
"At this stage it's not possible to pinpoint exactly the source of the illness and further investigation is ongoing.
"Staff and management at the hotel are co-operating with the investigation.
"The hotel has voluntarily closed and will be undergoing a deep clean throughout the venue.
"People in the community who have symptoms should stay away from work or school until they have been free of symptoms for 48 hours.
"Everyone should be encouraged to practice good hand hygiene and wash hands thoroughly and regularly at all times, but particularly after using the toilet and before eating."
Grade-II listed Alvaston Hall boasts a nine-hole golf course, an indoor swimming pool, spa and beauty treatments, a range of entertainment and a new cabaret restaurant.
(Pic by Peter Kent, geograph.org.uk)