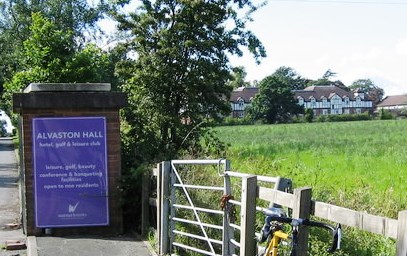 An angry family has blasted Alvaston Hall Hotel owners in Nantwich after they suffered the Norovirus bug – despite the hotel being "deep cleaned" days before.
Stephen Launchbury said several members of his family and guests were struck down, including his disabled brother Jim, who was left in hospital.
Alvaston Hall had been closed down for five days to undergo a 'deep clean' after other guests suffered the illness the week before.
But now it's emerged more families staying since then have fallen ill, with some posting to complain on the review site TripAdvisor.
Stephen's brother Jim, his wife Maureen, and son and daughter-in-law were among a party of seven from Telford who stayed as guests at the venue off Middlewich Road.
They checked in on the day the hotel re-opened after a week-long closure to tackle the bug.
But 48 hours into their stay, Jim was violently sick and collapsed from stomach pains and split his head open in the bathroom.
He was rushed to Leighton Hospital, but because of a previous subarachnoid aneurysm in his head, is still undergoing specialist treatment more than two weeks later.
Now his brother is demanding answers over who allowed the hotel to reopen.
He said: "My brother could have died, given his condition.
"I want to know who gave the authority to open the hotel again, had they consulted the appropriate authorities and their insurers?
"The manager didn't offer my family their money back or anything. They have not even contacted them.
"When they returned from my brother in the hospital on the Sunday, they were just confined to their rooms and given nothing.
"It's like if we don't say anything it will go away.
"It was clearly irresponsible to re-open this hotel."
Mr Launchbury has made an official complaint to Warner Leisure Hotels, and its parent company Bourne Leisure.
A spokesman for Warner Leisure Hotels said they did not comment on individual complaints.
"Management at Alvaston Hall Hotel took the voluntary decision to close temporarily on January 16 following reports of a vomiting bug among a number of guests and team members," he said.
"The hotel's management had already contacted officials at Cheshire East Council and Public Health England prior to the temporary closure.
"Hotel management co-operated fully with the council, Environmental Heath and Public Health England to ensure all necessary measures were taken and regulations rigorously adhered to.
"Following deep sanitising measures, the hotel reopened on January 20.
"All guests scheduled to arrive following the temporary closure were contacted and informed about the issue that had been experienced at the hotel.
"If guests no longer wished to stay at the hotel, they were given the option to change the destination of their break to another hotel in the Warner group, be provided with Warner vouchers or to transfer funds to a hold account in order to use them on another Warner break."