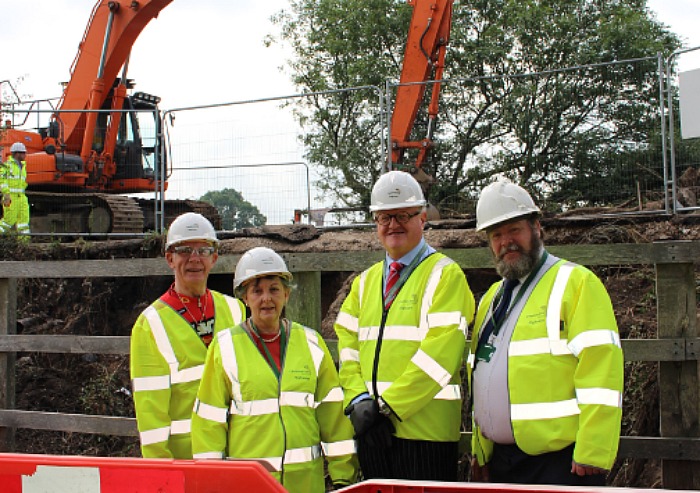 Highways engineers say they are working as fast as they can to complete repairs on the A530 Middlewich Road in Nantwich.
A burst water main near junction with Colleys Lane caused 'significant' damage, and it could see the main road closed for up to eight weeks.
Highways teams have to replace both edges of the carriageway, which have collapsed, and reconstruct a wall supporting a culvert that allows water to flow under the road.
They also need to stabilise embankments on both sides of the carriageway, protect exposed underground electricity cables that provide power to many properties and businesses in Nantwich, and
replace the highway drainage system.
Delays have also been caused as they require permission to work from adjacent land owners.
They have assured residents that teams will be working weekends as well to carry out all works as fast as possible.
A spokesperson for Cheshire East Council, said: "Councillors have been on site today (July 25) to further assess the damage.
"These are emergency works which require specialist skills and equipment.
"Middlewich Road is closed between the Sainsbury's Alvaston roundabout and the Beefeater Marshfield Bank roundabout, for the safety of road users.
"The road closure is in place at all times but the cycle way is still in operation.
"Cheshire East advises all vehicles to follow the signed diversion via the Nantwich bypass, the A500, David Whitby Way, Weston Road, Macon Way, Earle Street, Vernon Way, Dunwoody Way, West Street and Coppenhall Lane.
"This diversion is also operating in reverse and can be viewed on our roadworks page."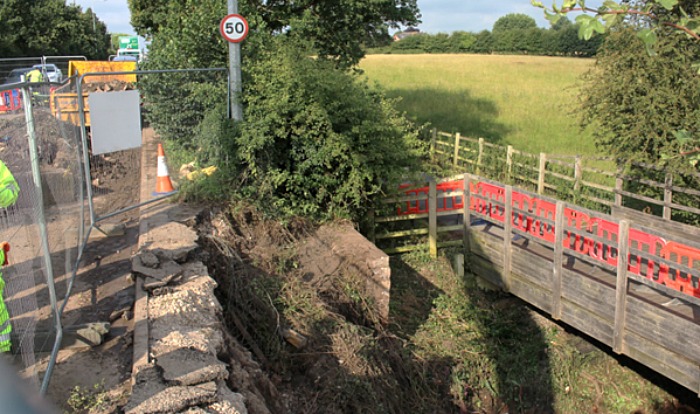 The council's highways team is linking to a webpage dedicated to repairs which lists the tasks they face at http://bit.ly/2vIuECv
Some residents have voiced concern at the use of Colleys Lane as a cut through to avoid the closure at the Alvaston roundabout end.
Catherine Bates-Smith said she posted comments about traffic cutting through Colleys Lane, adding: "Lorries should be stopped coming through a residential area and speed cameras should be placed.
"It's just not good enough.
"Colleys Lane is like a highway! Motorists are speeding through, there's constant beeps and I am sure there is going to be an accident at some point."
And business including Alvaston Hall, Rising Sun pub, and the Rising Sun Nurseries may also suffer by the long closure.
One regular user of the Crewe-Nantwich Greenway cycle route sent in this pic (below) which shows how Alvaston Hall staff have added their own handmade signs at the 'closed' section of Middlewich Road near The Rising Sun pub.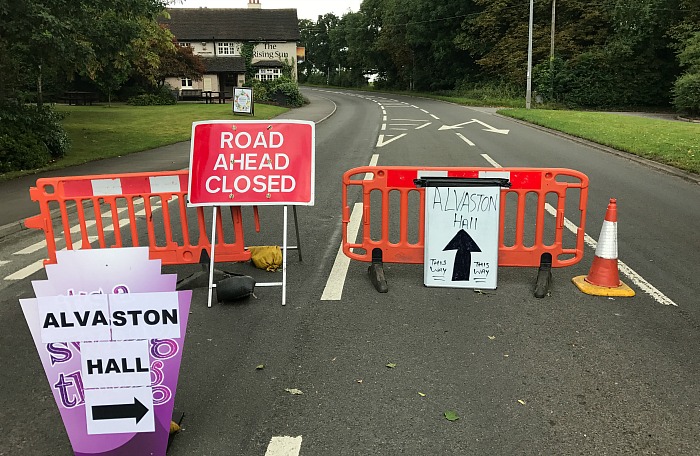 The reader added: "This is further disruption to their business only two years after the road was closed for resurfacing.
"I'm sure trade at The Rising Sun pub and The Rising Sun Nurseries has also suffered."
Cheshire East highways engineers have also made a video, which can be viewed here https://www.facebook.com/CheshireEastCouncil/videos/1045848282218862/
(Top pic l-r – Mayor Arthur Moran, Mayoress Jacquie Weatherill, Councillors Peter Groves and Derek Bebbington)