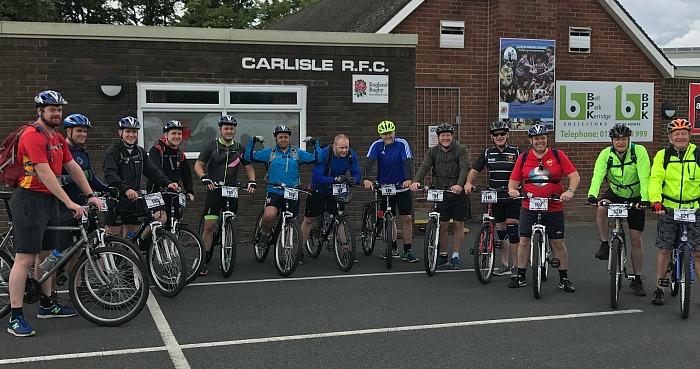 Members of Crewe and Nantwich RUFC completed an 86-mile challenge to raise funds for the Vagrants club and donate to the "We Love Manchester" fund.
Thirteen players and coaches from the club took on a cycle and walking mission starting in Carlisle and ending at Heddon-on-the-wall, near Newcastle.
The challenge was completed inside 24 hours, with those taking part cycling, then walking, before returning to the bikes for the final miles.
Jon Cockburn, chairman of Crewe and Nantwich RUFC, said: "We have completed numerous challenges of over the years, including the Three Peaks, Lyke Wake Walk, Coast-to-Coast and the Great Lakes.
"This year's route took us across country and onto Hadrian's Wall, so there was history as well as fitness and fundraising involved.
"The rugby club relies on donations and sponsorship, so the money we raise will help to upkeep vital facilities that all ages can use.
"With the recent Manchester tragedy fresh in everyone's mind, we will also be making a donation to the We Love Manchester fund."
The club effort was supported along the route by Neil Smith from Side by Side Care, who drove a mini bus to carry essential equipment and supplies.
He said: "I am a member of the club, and we love to support local organisations. This was a massive effort by all concerned, so supplying our company van was the least we could do."
The rugby club was joined by other local businesses who have supported the rugby club throughout the year, including Auto Vent, Trident Gas services and ARH Group.
Pledges are still being collected, but more than £2,700 has already been raised.
Crewe & Nantwich return to action when the 2017-18 season kicks off on August 26, when they face Birkenhead Park in Cheshire Cup.
Their opening Midlands 2 West fixture is on September 9 at home to Walsall.