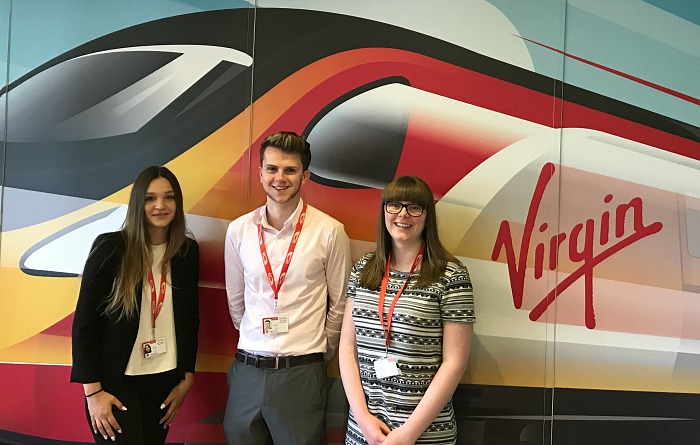 Three talented business students made the most of their summer holidays by completing a six-week paid internship with Virgin Trains.
Oliver Brady, 17, from Nantwich, Daria Bialynska, 18, from Crewe, and Georgia Owen, 18, from Woore, are studying a BTEC in Business Studies at South Cheshire College.
The internship was organised with Career Ready, a UK-wide charity linking employers with schools and colleges to open up the world of work to young people.
Oliver, who spent his internship working at Crewe Station, said: "It's been a fantastic experience.
"I worked in customer services either on the platform or the kiosk.
"The team at Crewe station made me feel really welcome.
"I've learnt so much – in particular how to cope under pressure and to remain calm whilst looking after and helping our customers.
"When I finish my course at South Cheshire College I definitely feel more confident about getting a job."
Daria and Georgia spent their six-week internship at Virgin Trains Talent Academy, in Crewe.
Daria, who hopes to study event management at university, said: "Every new member of staff for Virgin Trains comes through the Talent Academy.
"My role was office based and I worked on reception as well as other areas of the company such as HR.
"One of my highlights was organising an event for 30 new starters – I put a lot of effort and planning into the event and received some great feedback from senior managers at Virgin Trains."
Georgia added: "As well as working at the Talent Academy we got the chance to shadow an 'on board' crew on a train down to London Euston as well as visit the control station in Birmingham.
"It's been an amazing experience to see what goes on behind the scenes of a company like Virgin Trains. I'm really hoping to now secure an Apprenticeship in Business – ideally with Virgin – when I finish my course."
Suzanne Davies, Business Lecturer at South Cheshire College, said: "The internship with Virgin Trains has been a fantastic opportunity for our students.
"Our partnership with Career Ready really helps our students grow in confidence and gain essential skills for work.
"It also opens their eyes to what opportunities are out there after college – either going to university, securing an Apprenticeship or going straight into a job."
(Pic: Left to right: Daria Bialynska, 18, from Crewe; Oliver Brady, 17, from Nantwich and Georgia Owen, 18, from Woore)