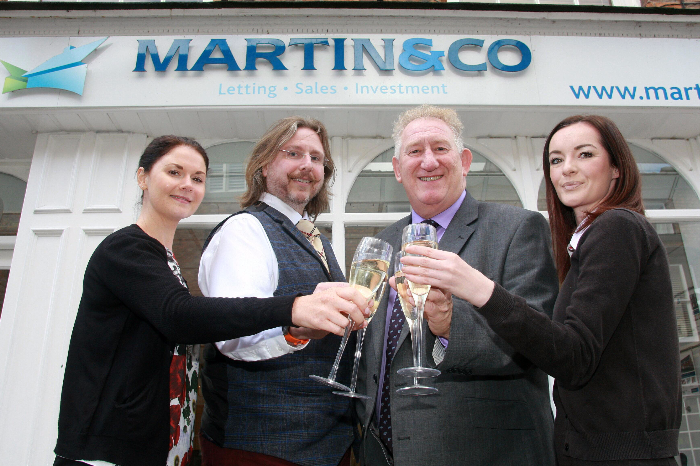 Nantwich property firm Martin&Co has achieved record figures for lettings at its Nantwich office.
The company, on Hospital Street, saw a 25% increase in lettings between May and August.
July was the busiest month on record with 36 properties let in one month alone.
They included a £1,500 per month property on Welsh Row and country mansion with equestrian interest.
Demand is strong and has pushed up rental prices by 10% on last year.
Average rent in Nantwich has risen to £748 per month, but it seems there is no shortage of tenants waiting to move in and experience the town's "feel good factor".
Martin&Co managing director Shaun Cafferty said: "Nantwich never loses its appeal as a town with a fantastic community spirit.
"It has soul and people want to be part of it.
"Festivals and events add to its vibrancy and make it a place where people want to live and if they are not in a position to buy a property, they will happily rent for long periods.
"On average tenants stay between 28 and 30 months in a property offering landlords long-term security and few void periods.
"Locally, we let on average more than two properties every single day. In peak months, rental properties are snapped up the same day.
"Nantwich offers a wide mix of property from small terraces and apartments to palatial country homes. Summer 2017 saw phenomenal demand for all types of rented property."
Mr Cafferty, Chairman of the South Cheshire Chamber of Commerce, also believes Nantwich is well-placed to benefit from HS2.
He added: "Nationally, the private rented sector continues to grow in both size and popularity.
"Our market intelligence shows residential property delivering the highest return of any UK asset since the year 2000.
"Locally, and especially in Nantwich, landlords are holding on to property, looking to the future and the positive impact of HS2.
"Much has been said about the benefits to Crewe and its appeal to investors.
"Yet Nantwich is also well-placed to benefit from HS2 and the increased demand.
"The town has excellent rail links and offers commuters the opportunity to enjoy a Cheshire lifestyle in a pretty historic town."
The branch, part of a national chain, has let more than 220 properties since the start of the year in Nantwich alone.
It continues to be one of the most successful branches outside London and was a runner-up in the company's 'Franchise of the Year' award scheme based on customer feed-back.
Mr Cafferty added: "Sales are also booming.
"Market intelligence shows 518 houses were sold in the Nantwich postcode area last year with the average sale price rising to £263,856 and 30% of all sales over £275,000."
(Pic: Shaun Cafferty, third left, with Nantwich office colleagues Hannah Wharton, Jonathan Welford and Jemma Cowden)