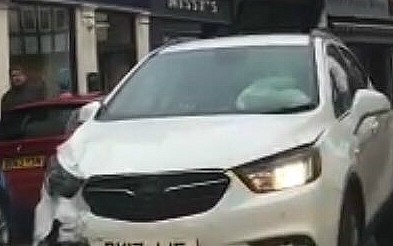 A driver thought to have been involved in a road accident in Nantwich was found slumped at the wheel of his car half a mile away, police say.
The accident happened on London Road in Nantwich when a silver Ford Fiesta was in collision with a Vauxhall Mocha at around 10.15am today.
It's believed the damaged Vauxhall then continued down London Road and into Hospital Street, according to eyewitnesses.
Minutes later, police found the vehicle and its 44-year-old driver unconscious and slumped at the wheel on Pillory Street.
Police closed off Pillory Street and paramedics took the 44-year-old, who is not from the local area, to Leighton Hospital for treatment.
A Cheshire Police spokesman said: "At 10.15am officers were called to reports of an accident on London Road between a silver Ford Fiesta and a Vauxhall Mocha.
"Following that, the second vehicle continued to drive and a short time later at 10.21am a Vauxhall Mocha was found by officers on Pillory Street severely damaged.
"It's believed the driver has suffered a medical episode at the wheel and was taken to Leighton Hospital.
"Pillory Street was closed as a result while officers and paramedics were dealing with this incident."
(Pic courtesy of Michael Dentith)