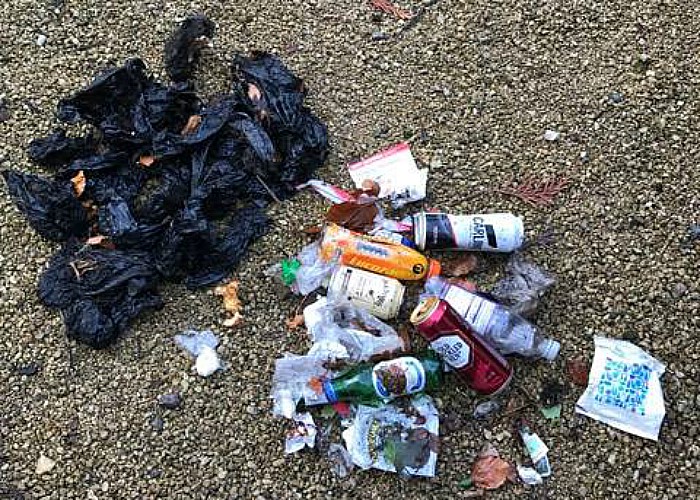 A shocked Nantwich family have revealed the horrific scale of littering and dog poo – by uncovering this haul from just one hedge!
Victoria Graham and her family moved in to their town centre house last summer, and recently started to tidy the garden.
And this week, she was stunned to uncover dozens of untied bags of dog poo along with an array of garbage just dumped in the hedge by dog owners and passers by.
Victoria said: "While cutting our hedgerow, I have just removed TWENTY bags of dog poo!
"What is wrong with people? I'm incensed.
"We've had the hedge cut and a holly reduced so I was able to access previously cut off areas and there was a load.
"I'm furious. How disrespectful!
"I've been clambering around in the undergrowth to retrieve them. I'd say about 50% of this haul are recent drops.
"CCTV is next on the list. We've only been in since July. I think we'll have to make it a priority.
"I've never seen anything like on-the-spot fines enforced."
Ironically, a lamppost very close to their home has a "£1,000 fine notice" plastered on it.
"There are often piles left to be walked through in the road, too," she added.
"I think our phantom poop dropper could be one person as none of the bags are even tied.
"I think more poo bins would really help.
"We have a puppy who, thankfully, doesn't mess if on the lead. However, I only really know of bins on off lead walking places.
"There are many dogs on leads around town.
"I'm a Nantwich returner having moved away to marry.
"I've returned with my London-born husband and I want him to stay in love with our town, but this does not help."
Nantwich Litter Group, run by dozens of volunteers, stage clean-up operations in public areas around the town each month.
But it seems private hedgerows and gardens are now taking the brunt of those too lazy or ignorant to bin their own rubbish.