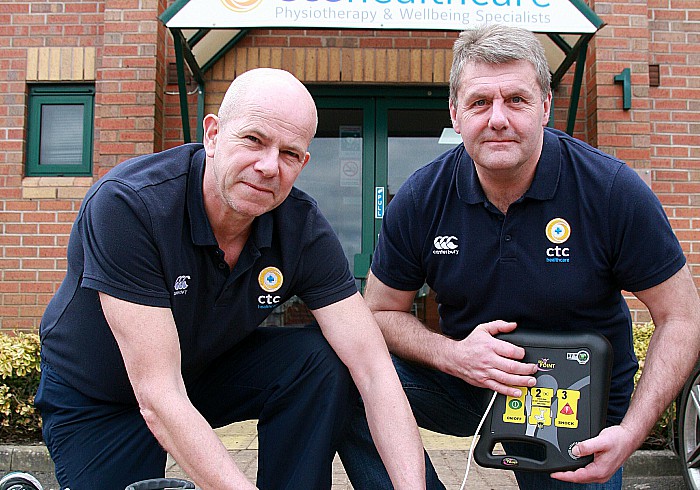 One of the region's top physiotherapists has installed public access defibrillators in its Crewe and Nantwich clinics to help prevent lives lost to cardiac arrest.
Rick Carter, owner of ctchealthcare and a trained first aider, is making the life-saving equipment available to everyone in South Cheshire.
He said: "Statistically in the UK, there are over 30,000 cardiac arrests outside hospital annually.
"Survival rates without defibrillators are less than 10%. With immediate CPR and defibrillation within three minutes, survival rates are as high as 75%.
"AED defibrillators are a big investment but we believe they will be worth it to prevent needless loss of life."
Mr Carter, who founded ctchealthcare 24 years ago, is resident physiotherapist at West Bromwich Albion FC and a First Aid trainer to the Cheshire FA and county cricket league.
He added: "When I was 21 I didn't know any first aid and when my grandad collapsed in front of me, I was helpless.
"We were at the old Wellcome Foundation social club in Crewe.
"There wasn't a first aider in the building and the ambulance took 30 minutes to arrive.
"I believe everyone should know some basic first aid and with AED defibrillators so straight-forward to use, there's every reason to get to know your nearest public access point."
The equipment is available in ctchealthcare's Nantwich clinic on Beam Heath Way and Crewe clinic on the business park.
The company is one of few UK physiotherapy-providers to be recognised with SEQOHS accreditation from the Royal College of Physicians for excellence in care.
It offers training to people who wish to become first aiders and the Crewe and Nantwich clinics are registered under the public access defibrillator scheme run by HeartSafe.
For more information on First Aid courses call 01270 361363 or visit www.ctchealthcare.co.uk
(Pic: First aid trainers Rick Carter and Steve Hallam with the new defibrillators available at ctchealthcare clinics in Crewe and Nantwich)