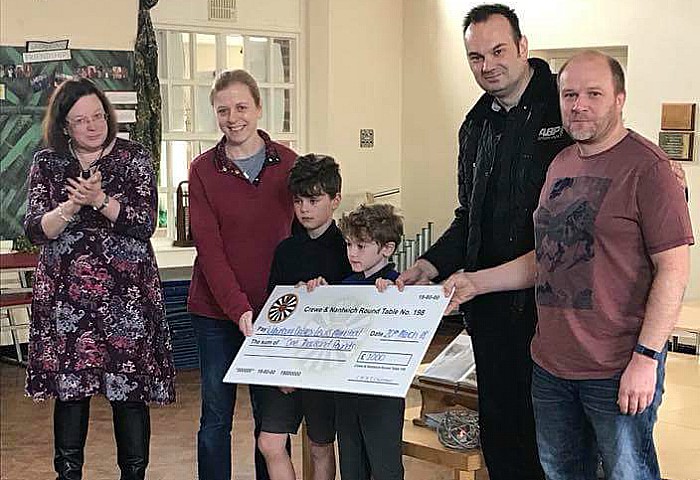 Big-hearted pupils at Wybunbury Delves are running a fund-raising project in memory of their friend Lewis Crossley, who died of leukaemia last year.
Youngsters in Year 3 came up with the idea to honour Lewis, who bravely battled the disease before his tragic death.
His classmates want to raise around £6,000 to buy a large piece of play equipment because "when we are playing outside, it is when we most remember him and it's like he'll be there with us".
And their project was given a major boost when Crewe and Nantwich Round Table kick-started it with a £1,000 donation.
Stephen Robb, of the Crewe & Nantwich Round Table, said: "We were all touched by Lewis and his family's great determination shown throughout his illness.
"We are delighted to be able to help his school friends with their fundraising project to have a piece of play equipment in memory of Lewis.
"I can tell you the joy on the children's faces when they received our donation was heart-warming and I'm sure it will be a great kickstart to achieving their target.
"Many thanks to the residents of Wybunbury for kind donations when we bring Santa to your door every December and we know you will approve of our
choice of this recipient."
Lewis's parents Adam and Susanne visited the school and with Lewis's friends Joe and Fin, from Year 3, and deputy headteacher Mrs Chesters, received the donation from Crewe & Nantwich Round Table member Chris Meredith.
Wybunbury Delves teacher Natalie McCurrie said: "The children have now written letters to lots of local businesses to ask for donations.
"Our fundraising goal is £6,000-£8,000."
If you would like to donate, visit https://www.gofundme.com/APlacetoRememberLewis or call Wybunbury Delves on 01270 841302 or email [email protected]
Lewis's family has registered a charity to continue to raise awareness and funds in memory of Lewis, which can be found at
https://m.facebook.com/teamlewistrust/